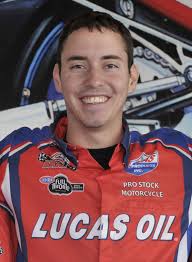 After a top-five qualifying spot, Pro Stock Motorcycle rider Adam Arana had one of his best race weekends of the 2014 season during the NHRA Nationals at Maple Grove Raceway.
Making his fastest pass of the weekend in round one, Arana's ProtectTheHarvest.com/MavTV Buell raced to a 6.857 at 194.91 mph. Even with his improved run, Arana advanced to the next round when Steve Johnson red-lit by .045-second.
"The first round was good," Arana said. "We went faster than we did in qualifying, which is always a bonus. It was fast out there and I was improving.
"I got a little nervous during the run because I saw Steve was ahead of me. I was thinking, 'Oh crap, this sucks going home early.' But he did end up red-lighting by quite a bit, which was good for me but bad for him."
Looking to help out brother Hector Jr. by taking out No. 2 in points Eddie Krawiec, Arana's second-round pass of 6.935 seconds at 194.49 mph wasn't enough for Krawiec's 6.806 at 195.39 mph.
"For the second round we made some changes and it just didn't work," Arana said. "I slowed down a lot in the 60-foot. It just spun real bad and was shaking the bike pretty good. It sucks losing and it sucks real bad knowing that I could have helped my brother in the championship."
While the youngest Arana wanted to make it further through the ladder on Sunday, he was happy with everything he was able to accomplish this weekend.
"It was a good weekend," Arana said. "It's been better than it has been a couple times this year because the bike is running better. When the bike runs good it gives you a little more confidence for Sunday.
"It's getting better, which tells me the motor is finally starting to break in. We're going to try and do some burnouts in the off time and hopefully we can break it in a little bit more and be real fast for the last two races."