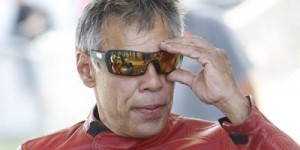 With momentum high heading into the first round of eliminations at the NHRA Nationals, Pro Stock Motorcycle rider Hector Arana Sr. put up a great effort despite falling victim to a part malfunction.
After the great qualifying attempt by the three-rider motorcycle team, Arana discovered an issue with his run data following the last session on Saturday. For reasons unknown, the Lucas Oil Buell's sensors were not picking up data throughout the last run, causing the data to reflect different results. That issue made any upcoming changes Arana wanted to make for Sunday almost impossible.
"The bike is coming around; that's the good thing," Arana said. "We have a sensor giving us false data though. We found that out last night and we are headed back in the right direction that we need to go now. It's going to take some more runs to get it back to where it needs to be though."
Putting down another solid pass this weekend of 6.908 seconds at 195.70 mph, Arana had to chase Scotty Pollacheck from behind the entirety of their round-one pass after a .104 reaction time compared to Pollacheck's .012. However, Arana isn't too concerned with his early exit since he knows exactly what to fix for the next race.
"When we make the run we're losing data," Arana said. "It makes it hard to know what changes we need to make. All I can do is go by what I feel from the run and make a decision off of that. It's disappointing but there's not much I can do about it.
"So as soon as I get back, I'm going to replace those sensors and go from there."