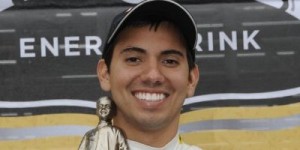 Trying to stay within contention for the 2014 championship, Pro Stock Motorcycle rider Hector Arana Jr. made up some valuable points during the NHRA Nationals at Maple Grove Raceway.
No. 17 Brian Pretzel pulled out to a small lead in round one with a .017-second reaction time compared to Arana's .114. However, Arana was able to make up ground quickly, grabbing the round-win with a 6.816-second pass to Pretzel's 7.172.
"First round I felt good," Arana said, "but with qualifying and all the issues we were having, I was just relaxed too much. I thought, 'I got him in qualifying, I've got it covered,' so I didn't push the Tree. I was kind of late on the Tree as well. No matter who I'm racing, I don't like to be late on the Tree.
"We made a pretty decent pass; it was the third-fastest of the weekend at the time."
Looking to make up for his reaction-time slipup in the first round, Arana jumped the Tree early in round two. Lighting the red bulb at .026-second, he gave the round-win to Matt Smith from the start.
"I guess I just over compensated for first round and red-lit," Arana said. "At that same time, to add insult to injury, the bike spun the tire real bad off the line. It was just like the issue we were having earlier in qualifying.
"We still have issues that we need to figure out. I guess whatever we put in it for Q4, it still was a Hail Mary mulligan run in the first round as well. It worked and kind of patched up the issue because I was able to make another good run right after it, but three runs in the issue just started coming back.
"We just have to go back home and hopefully we can do some practice launches to get it figured out."