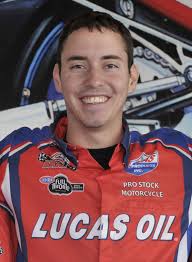 With a tight race from start to finish, Pro Stock Motorcycle rider Adam Arana dropped a first-round loss during the NHRA Toyota Nationals at The Strip at Las Vegas Motor Speedway.
With a .087 reaction time compared to No. 6 Katie Sullivan's .037, Arana tried his best to power his ProtectTheHarvest.com/MavTV Buell back for the win. However, Sullivan's 6.968-second pass at 191.02 mph was enough to hold off Arana's 7.015 at 191.65 mph.
"We just messed up," Arana said. "We had a couple of broken discs in our clutch, and the changes that we made were in the wrong direction.
"I slipped so bad, it's ridiculous how much the clutch slipped. When that happens you're not putting any power down to the ground, so you can't drive. I should have been four-hundredths quicker than I was.
"It even slowed up my reaction time. I can see that when I look at both graphs, they're contradicting each other. One is saying that I let go of the clutch and then the motor revved up and slipped. The other graph though is saying the motor revved up and slipped before it ever drove. That means there's a lot of stuff going on and the bike is not moving or driving, which hurts your reaction time. When you're not locked up, you're not pulling."
While Arana is optimistic that this issue is easily fixable, he is also frustrated that it ended his weekend early. Knowing his racing career is coming to a close soon, Arana wanted to finish this weekend's race on a more competitive level.
"It's just frustrating because I only have one more race left," Arana said. "I want to do well and end the season on a high note. I'm too competitive to just not let it bother me."
Arana will turn his focus to the last race of his professional career, the Auto Club NHRA Finals, Nov. 13-16, at Auto Club Raceway.