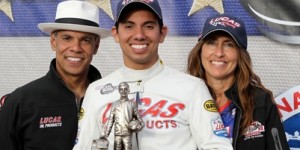 It's safe to say Lucas Oil Pro Stock Motorcycle rider Hector Arana Jr. won't be betting on red anytime soon.
Arana left too soon in his first-round match Sunday with Eddie Krawiec, drawing a red-light and bringing his NHRA Toyota Nationals at The Strip at Las Vegas Motor Speedway to a premature end.
"For whatever reason, I was red every time in the right lane, about that same amount," Arana said. "The other lane was fine, so I don't know what it was with the right lane."
Arana left .082-second too soon, handing Krawiec the victory. Krawiec made a terrific pass, 6.888 seconds at 194.02 mph, so he would have been tough to beat.
Arana, the No. 13 qualifier, had a tall order against No. 4 Krawiec, but his approach to the starting line wasn't affected by the difference in their qualifying positions.
"I just went out there to win," Arana said. "When I saw the lights come on, I let go of the clutch."
Nor was Arana afraid of the right lane, figuring he'd be able to cut a good light.
"I saw the light, and I went and it was red," Arana said. "I wasn't going to be afraid because I went red during qualifying and then hold back and be late. I reacted to the Tree and it ended up being red again."
Arana will look to finish the 2014 season on a high note when he travels to Pomona, Calif., Nov. 13-16 for the Auto Club NHRA Finals at Auto Club Raceway.
Arana heads to Pomona fourth in the Pro Stock Motorcycle points standings. He has finished fourth or better in each of his first three seasons in the class.