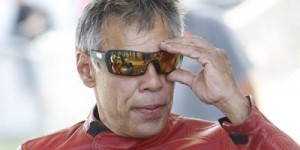 In typical late-season fashion, Pro Stock Motorcycle rider Hector Arana Sr. continued to build momentum during final eliminations for the NHRA Toyota Nationals at The Strip at Las Vegas Motor Speedway.
Cutting a .035 light against No. 11 Steve Johnson's .074 in round one of eliminations, Arana was able to easily motor his Lucas Oil Buell to the win with a 6.979-second pass compared to Johnson's 7.044.
"Coming here I felt relaxed, I felt good," Arana said. "I haven't felt like that in a while, so it's a good feeling again. My first run in eliminations I was calm. I had a good light and everything went well.
"Of course, my mind is always thinking and searching and trying to find out more to go quicker," Arana said. "We made some calls and went on to the second round. I can see a little improvement, but with my luck this year the Racepak (computer) didn't record."
Continuing his consistency, Arana ran an identical 6.979 in round two against Matt Smith. However, Smith's .048 reaction time was enough to stay ahead of Arana in the end.
"I know I've been saying this but we are going in the right direction," Arana said. "All weekend we were consistent and we kept improving. We didn't slow down and we stayed consistent. I'm heading in the right direction."
Despite being mathematically eliminated from the championship hunt, Arana continues to make his way up the rankings. With his solid showing in Vegas, "the Hammer" was able to move into seventh in points and is looking to make up more ground heading into Pomona, Calif.
"Definitely, I want to keep moving up," Arana said. "Boy, this has been a tough year, so right now I'll take what I can get."
Arana will look to continue his consistency at the last race of the season, the Auto Club NHRA Finals, Nov. 13-16, at Auto Club Raceway.