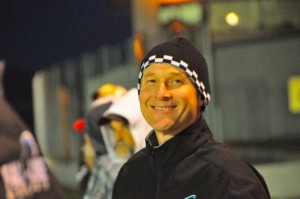 Former AMA Prostar Pro Stock world record holder and NHRA champion, "7-0" Joe Koenig was injured in an accident on Sept. 23 while racing his Trim-Tex BMW M3 in a SCCA road racing event at Road America in Elkhart Lake, WI.
Koenig spun going into "Canada Corner" after a tap from eventual podium finisher David Pintaric, and was struck by another car on the driver's side door.
Koenig sustained a broken rib and other injuries, but has since been released from hospital.
On Facebook Koenig's wife Deb wrote, "Thanks to Fall Line for building one bad ass safe car. Joe is doing incredibly well, all things considered. He has one broken rib, four with the cartilage torn from the sternum, five hairline cracks in the pelvis and more bumps and bruises than he can count. Walking is too difficult and very painful. Pain level is a 1 lying down and a 20 trying to walk. Thanks again for all the well wishes!"
We wish Koenig a quick and speedy recovery.