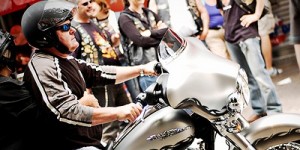 As the Screamin' Eagle Performance Parts Championship Series prepares for our upcoming national event at Rockingham Dragway in Rockingham, N.C., there is excitement in the air.  We are pleased to announce that Harley-Davidson Motor Company will be among the list of exhibitors at the AHDRA-Jim McClure Nitro Nationals Championship Finals on Friday, October 7th through Sunday, October 9th.
"The Screamin' Eagle Performance Parts sponsorship is a tremendous asset for AHDRA, and we're proud to take Screamin' Eagle Nitro Harley Racing to the next level," said AHDRA President, Craig Tharpe. "We have really been trying to focus on the racer this season and deliver a schedule that gets them in front of spectators at all levels of our sport. These Harley racers put on a tremendously exciting show at speeds of 230 plus miles per hour."
"The AHDRA is committed to providing racers and fans with the top facilities available to ensure safety for competitors, while providing quality entertainment for spectators", Tharpe explained. "We are excited to have been able to add new tracks to this year's schedule along with some of our strongest venues from the years past".
The Harley-Davidson Road Tour Display will feature the New 2012 Harley-Davidson motorcycles, Motor Clothes riding gear and apparel.  There will also be a women's area including the JUMPSTART rider experience, bike lift and more.
AHDRA proudly welcomes the Harley Owners Group for an Official H.O.G. Pitstop.  H.O.G. members will receive a free pin at the Pitstop with paid admission.  Harley-Davidson H.O.G. Representative, Bruce Motta, will be attending this event.  Please feel free to stop by and visit with Bruce, pick up your free H.O.G. Pin and enjoy a cool beverage with him. For more information on other H.O.G. Events, visit www.members.hog.com. H.O.G. members will also receive a $5 discount at the gate.
Harley-Davidson Motor Company is the only major U.S. Based Motorcycle Manufacturer, which produces heavyweight motorcycles and a complete line of motorcycle parts, accessories and general merchandise.  Harley-Davidson sustains a loyal brand community, which keeps active through clubs, events, and a museum. For more information, visit Harley-Davidson's website at www.harley-davidson.com.
There is plenty of exciting news coming for the 2012 Season.  Stay tuned to www.ahdra.com for current news and the release of the AHDRA – Screamin' Eagle Performance Parts 2012 Schedule.