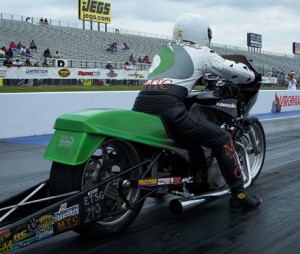 In 2002 Jim Carroll went an amazing 30-0 in round competition in the now defunct Formula Superbike Series.
2002 was a storybook season for Jim Carroll of Mechanicsville, VA, who captured his first AMA/Prostar Formula Superbike championship aboard the Adams Performance ZX-12 Kawasaki. Coming into the final event of the season, Carroll and his Team Kawasaki teammate Ryan Schnitz, were both in the running for flawless seasons after wrapping up the championships in Montgomery one race prior.
Schnitz was defeated early but Carroll went on to win the event, finishing the season with an unprecedented 30-0 record, with a total of 8 pole positions. Carroll expressed how he remained focused during the Gainesville final, with the title on the line.
"I wasn't any more nervous than usual in the final," Carroll said. "Being a sportsman racer, I know that you have to go up there and run your own race. I approached that round like any other. 90-percent of drag racing is mental."
Carroll, who also competes in the extremely competitive Top Gas category and Super Gas series, was actually able to "take it easy" on the tree in the Suzuki Formula Superbike series, due to his machine often being more than two-tenths of a second ahead of the rest of the field.
Carroll said, "I didn't have to push the tree as much in Superbike. It was really nice to have a performance advantage nine out of ten times this season. I have been bracket racing for years and that is where my heart is. I truly believe that sportsman racing is the toughest out there. You have to cut good lights in the sportsman categories because everybody has the equipment to run the index."
En route to winning the championship that he wrapped up before the final race, Carroll posted the quickest and fastest run in the category with an outstanding 7.913 at 168.03 mph in Norwalk, OH.
"Coby Adams and Chip Ellis made it easy for me," Carroll said. "All I had to do was ride. I really didn't know anything about this class coming into the season. Having the ET and mph records along with the championship is just an overall good feeling due to good people and good machinery."