Joe Holt, the 350-pound Hayabusa bracket racer from Ohio, proved that big guys can race too at the 2003 AMA/Prostar US Nationals from Atco, NJ.
A huge Street ET field consisting of over 80 top-notch riders gathered at the 2003 AMA/Prostar U.S. Nationals – all vying for the prestigious four-foot high winner trophy.  As always the category had a little bit of something for everyone; slammed Busas and ZX-12s, 600 c.c. rockets, GSXRs, Blackbirds, R1s, even a few old school KZ and GS bikes. Although, on this particular day the class experienced a happening it had never seen before when 350-pounder Joe Holt from Columbus, Ohio, began to dominate.
"I was just on that day," Holt said.  "My bike was running fantastic and I was having a great time."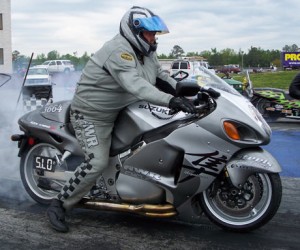 After Holt used a deadly .001 reaction time to get past Ralph Romeo in round three the crowd became apparently overtaken and inspired by the big man's efforts.  They began to support Holt and cheered him on every time he came up to the starting line.
"It was the greatest day I ever had drag racing," Holt said. "The cheers made me feel like a million bucks. It was so awesome.  I've never had that amount of people cheering me on."
Holt made it all the way to the final where he lost to eventual champion Derrick Stroble who ran a 9.80 on a 9.80.  However Holt's performance was so captivating that he was treated to something that no other Street ET runner up in the history of AMA/Prostar had ever received. Holt was given a standing ovation as he came back to the pits via the return road.
"It was so unexpected," Holt said.  "I was coming back up the return road thinking to myself, man I lost and their still hollering for me.  If I won I would have had to do a big NASCAR burnout by the fence for them. They were awesome."
Holt, who owns and operates AWR Cycles, has been drag racing for over 15 years and has never let his size keep him from the sport he loves.
"Big guys like to race and have fun too," Holt said.  "I might be a little slower, but it's not always the fastest guy that wins."
After watching a 350-pound man whoop-up on a bunch of fly-weight riders I think Don Garlits must have been right, drag racing really is for everybody.