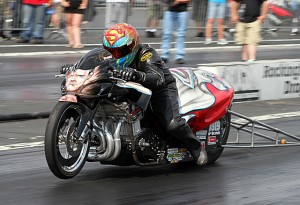 Tight racing on Sunday and Grudge-style entertainment on Saturday were hallmarks of the FBR Shop Bike Week Nationals, May 21-22 at Rockingham Dragway. This third stop on the 2011 Mickey Thompson Performance Tires MIRock Superbike Series ran flawlessly under Carolina blue skies.
Maryland's Robbie "Superman" Hunnicutt took a holeshot Mickey Thompson Pro Mod win over local hero Ronnie Procopio, winner at The Rock back in March. Hunnicutt grabbed nearly 5/100ths advantage over the usually razor sharp Procopio at the tree and ran 4.26 in the eighth mile class to keep out in front. Ironically, Procopio beat number 1 qualifier and new nitrous MPH record holder Matt Smith (173.72) on a holeshot in the semifinals.
Defending Orient Express Pro Street class champion Rodney Williford took his second straight win, this time over Floridian Ken Edwards. Number 1 qualifier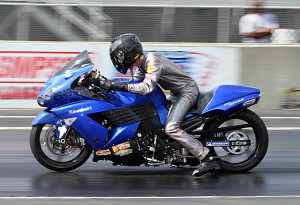 Williford fell short of backing up his fastest-ever in the series 208.81 mph semifinal lap, but did break into the teens with a 7.19 in the final.
Jeremy Teasley's DME Real Street win streak continues unabated as he took the final round over Delaware's Joey Gladstone, a repeat of the March final. Gladstone ran a good lap but was uncharacteristically slow off the starting line and failed to get the win at a time when Teasley's Adams Performance/RS Motorsports Kawasaki ZX14 was ripe for the picking. Something blew in Teasley's motor and he ran through the traps sounding like a goat and running nearly 23 mph slower than his record setting 194.18 from earlier in the day.
Teasley also won Saturday's most entertaining grudge race. Aboard a stock wheelbase, all-motor Suzuki Hayabusa from House of Speed that had "sleeper" written all over it, Teasley got the break against a stretched, nitrous-fed 'Busa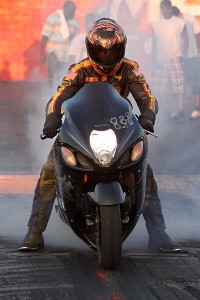 painted Tar Heels blue on one side and all Blue Devils on the other. Teasley took that break and ran with it, staying well out front in the left lane and, seeing as how his bike was fully equipped with turn signals and everything, added insult to injury by putting on the right flasher at the top end. The offer to rerun without the break was made by Teasley's camp but not accepted.
Teasley didn't quite win everything this weekend as he came up short in the House of Speed Crazy 8s final to "Fearsome" Andy Baumbach. Riding Wayne Robertson's Suzuki B-King, Teasley gave up the tree then spun hard, handing Baumbach an easy win. Virginia plumber Baumbach has now won in every sportsman class ever run in nearly every major all-motorcycle drag racing series in America over the last 15 years.
Maryland's Pat Butler rode his all-motor Outlaw style bike to the FBR Shop Top Sportsman win over Shayne Proctor, who redlit by -.002. Virginian Schubby Clayton beat Georgian Tony Freeman in Motorcycletireoutlet.net 5.60.
One could understandably get confused reading Nitrous Express Pro ET and Schnitz Racing Street ET results. Michael Herman Jr. beat Gerrell Clemons in Saturday night's Street ET final, but Clemmons beat Michael Herman Sr. in Saturday night's Pro ET final. Then Herman Sr. won Street ET on Sunday over perennial runner-up Terry "T-Bone" Singleton. Willie Warren Jr.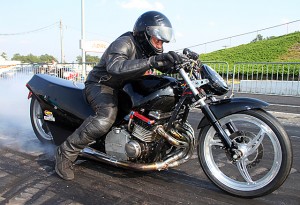 slapped a .005 light on Boo Brown to take Sunday's Pro ET final.
Results: http://www.mirockracing.com/results/2011/race3-rock/index.htm
The Mickey Thompson Performance Tires MIRock Superbike Series races next June 11-12 at the Fast by Gast Summer Showdown at Maryland International Raceway in Budds Creek, Maryland, USA.