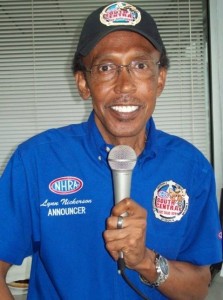 Cycledrag.com is saddened to learn of the passing of announcer Lynn Nickerson.
Nickerson passed away on the morning of Friday May 20th, 2011 after a long bout with cancer.
Nickerson, of Fort Worth, Texas, was best known in the drag bike world for his time announcing on the AMA/Prostar circuit in the late 90s and early 2000s.  Nickerson also announced several four-wheel drag races motocross events.
"Everyday I wake up is a bonus to me.  To go to the races and be with my racing family is like icing on a German chocolate cake," Nickerson wrote as a quote on his Facebook profile.
Godspeed Lynn.
Editors note – I called my very first race, the 2001 AMA/Prostar World Finals, with Lynn Nickerson.  He had an incredible voice  and was very knowledgeable.  He loved to announce.  It was his passion.  He will be missed. – Jack Korpela