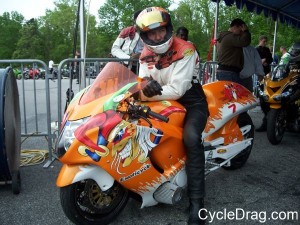 The race to break Pro Street motorcycle racing's 7.00 second barrier moves next week, May 20-22, to Rockingham Dragway where Bud Yoder of Flint, Mich., and Rougemont's Rodney Williford are most likely to push the performance envelope during the ninth annual FBR Shop Bike Week Nationals, third of the eight races that comprise the Mickey Thompson Performance Series.
The three-day event, which will crown champions in Orient Express Pro Street, Mickey Thompson Pro Modified, DME Real Street, FBR Shop Top Sportsman, House of Speed Crazy 8s, MotorcyleTireOutlet.net Pro Comp and Nitrous Express and Cycle Connection bracket classes is the third in the 2011 MIRock Superbike Series hosted jointly by The Rock and Maryland International Raceway.
Although MIRock already is established as a groundbreaking, independently-produced motorcycle series, the potential for record-breaking two-wheel performance has added a new element to the series.
In fact, Mickey Thompson Performance Tires and PR Factory Store have posted a "6-Second Bounty" package consisting of $3,000 in cash, 10 M/T MCR2 drag tires and a commemorative Mickey Thompson racing jacket to be presented to the first Pro Street racer whose quarter mile time begins with a "6."
Yoder, March winner of The Rock's Spring Open astride a turbocharged 2010 Suzuki, is the current MIRock record holder at 7.115 seconds.  Williford, the reigning MIRock champion and winner earlier this month at MIR, already has broken 7.00 seconds – but not under the current rules.
Enroute to the 2006 MIRock title, Williford stopped the timers in 6.918 seconds in qualifying for the Rockingham season finale, running under the previous "Outlaw" Pro Street rules.  Two months later, his turbocharged entry was legislated out of competition.  Now he once again is poised to break that barrier.
In addition to a full day of practice on Friday and two days of some of the most intense motorcycle drag racing on the planet, the FBR Shop Nationals also features Rockingham Dragway's popular Afterdark Underground with DJ music and run-what-you-brung grudge racing under the lights.
Saturday's 1 p.m., 4 p.m. and 7 p.m. pro qualifying sessions will set the stage for two hours of Afterdark Underground.  Pro eliminations will begin at 12 noon Sunday.
Adult tickets are $10 Friday, $20 Saturday and Sunday although two-and-three-day tickets are available at a discount.  Children 6-11 are $5 daily; under six free when accompanied by a ticketed adult.  Parking is free in Rockingham's main lot although VIP parking is $10 each day.