For Harley-Davidson® Screamin' Eagle®/Vance & Hines riders Andrew Hines and Ed Krawiec, the 2016 NHRA Mello Yello Drag Racing Series has come down to the wire in a dead heat. After 15 events and 60 furious elimination rounds of competition, the teammates are tied for the Pro Stock Motorcycle points lead as they prepare their Harley-Davidson® Screamin' Eagle competition motorcycles for the final race left on the schedule. Qualifying for the 52nd Annual Auto Club NHRA Finals at Auto Club Raceway in Pomona, California, begins Nov. 11 with the title of World Champion on the line for Hines and Krawiec.
Hines and Krawiec have each raced a competition Harley-Davidson® V-Rod motorcycle to multiple NHRA Pro Stock Motorcycle world championships; Krawiec is a three-time champion (2008, 2011-12) and Hines is a five-time (2004-06, 2014-15) and defending Pro Stock Motorcycle champion.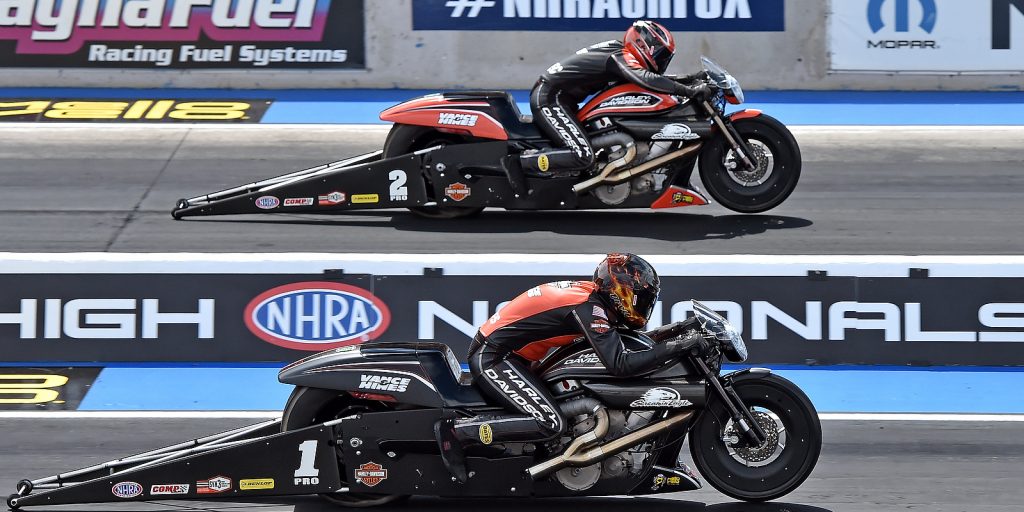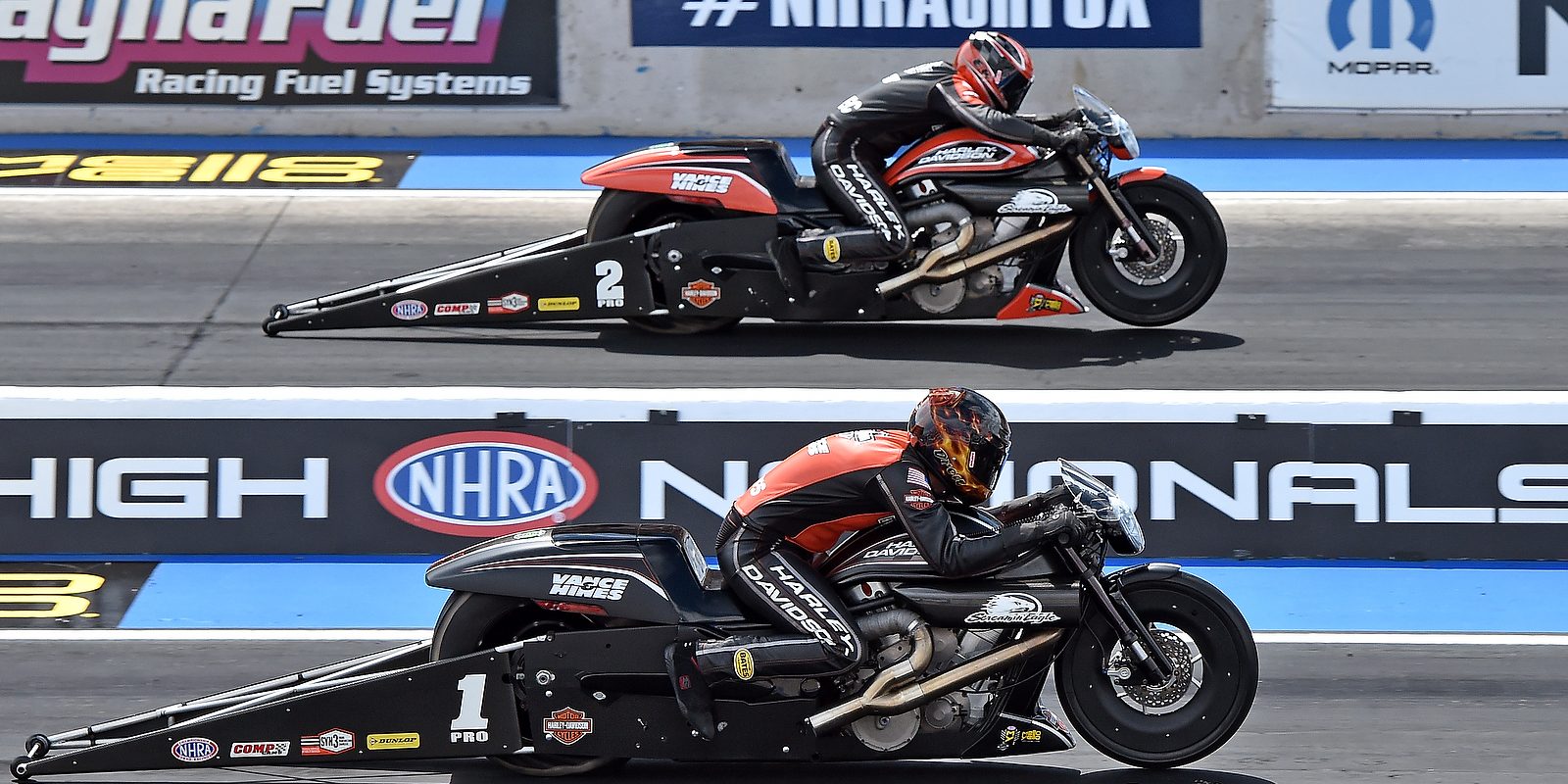 "Andrew and I will push each other to the very last win light," said Krawiec. "We are going to try and make it tough on each other, because if it's tough on us it's even tougher on the competition. Whoever comes out champion this year is going to earn it."
The Harley-Davidson Screamin' Eagle team has dominated the Pro Stock Motorcycle class in 2016, winning 10 of 15 final-round races to date. Hines and Krawiec each have five wins on the season. Krawiec led the series in points for most of the 2016 season until Hines won at the U.S Nationals at Indianapolis on Labor Day weekend and claimed the top seed for the six-race Countdown to the Championship playoffs. Hines started the Countdown with a 30-point lead over Krawiec. In the first five Countdown events, Hines and Krawiec have each made the finals twice. Hines lost in the finals at Charlotte and Las Vegas, while Krawiec scored wins at Reading and Dallas. The result is a tie atop the standings, with both riders bringing 2,509 points to Pomona for the NHRA Finals.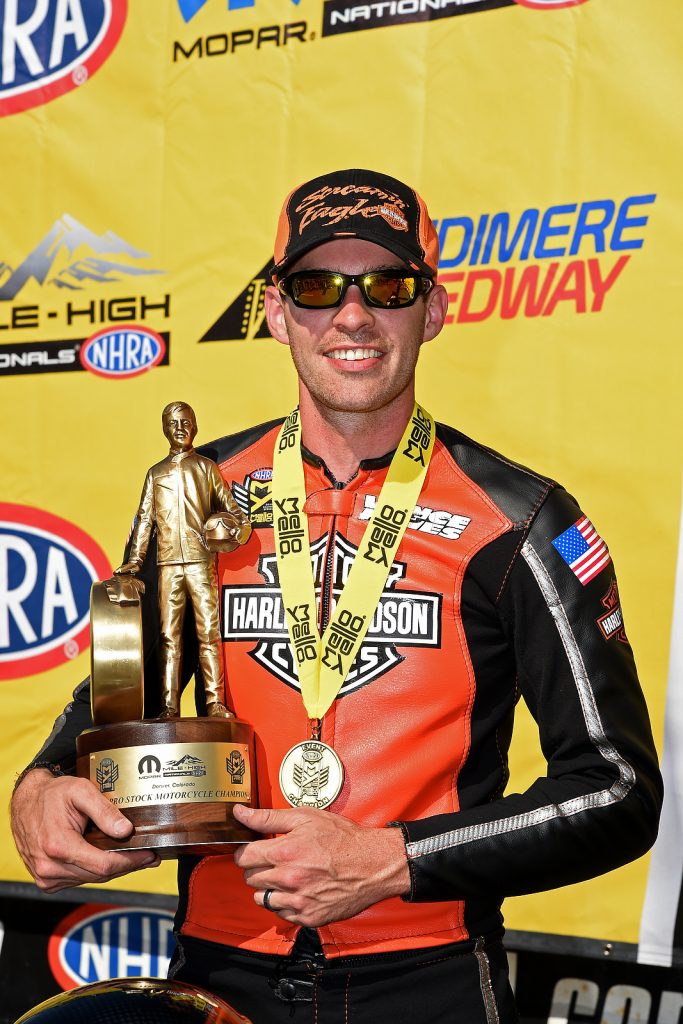 Hines and Krawiec race on competition motorcycles inspired by the unrelenting performance and sleek street style of the Harley-Davidson V-Rod Muscle, a motorcycle powered by a liquid-cooled 60° V-twin engine ready to breathe a little fire onto the street and available now at authorized Harley-Davidson dealerships.
"This year has been phenomenal, and we are going to be battling all the way to the finish," said Hines. "We've been racing each other all year and trading the points lead back and forth, but now it's going to come down to the last four rounds of the season."
With Hines and Krawiec tied atop the standings and just three points separating the top three riders, bonus points earned in qualifying will be critical at Pomona.
"Among the top bikes, nobody can gain an entire round (20 points) in qualifying," said Hines. "But if one racer can gain a three- or four-point advantage in qualifying and we all lose in the same round of eliminations, those points would decide the championship. Every pass down the track is going to count at Pomona."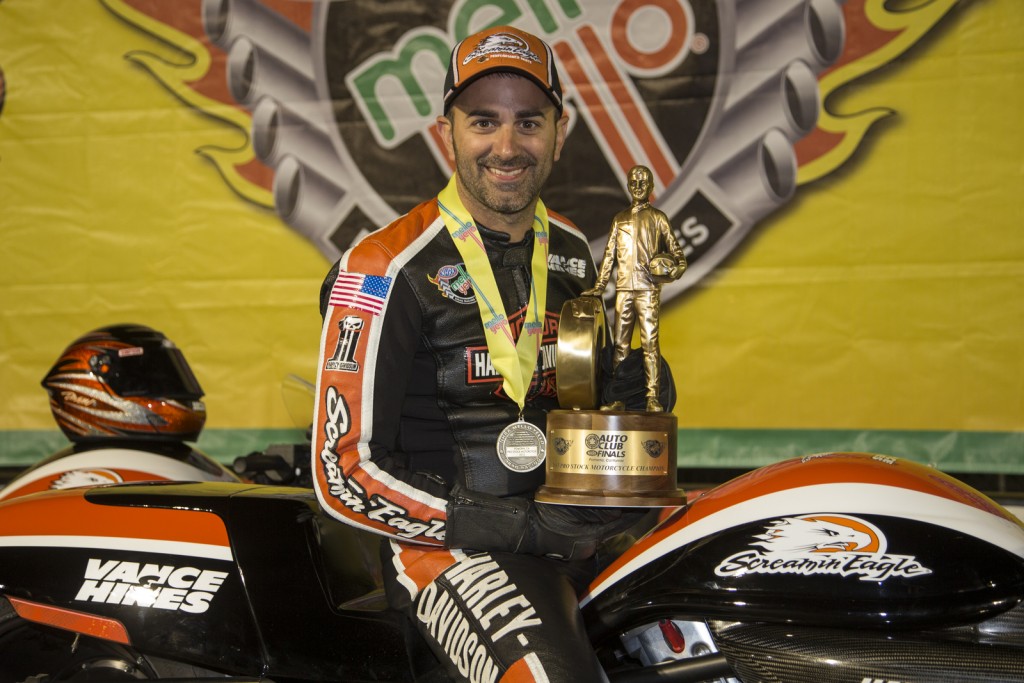 Krawiec and Hines have raced each other 43 times, but they come to the track as a team.
"The ultimate goal is always to line up both Harley Screamin' Eagle bikes in the final," said Krawiec. "We each race for personal pride, but we bring home a championship for the team and Harley-Davidson."
The sixth and final round of the NHRA Countdown to the Championship, the 52nd Annual Auto Club NHRA Finals, is scheduled for Nov. 11-13 at Auto Club Raceway at Pomona.
Click here to check out how Eddie Krawiec and Andrew Hines are preparing for the 2016 championship race.
About Harley-Davidson Motor Company
Since 1903, Harley-Davidson Motor Company has fulfilled dreams of personal freedom with cruiser, touring and custom motorcycles, riding experiences and events, and a complete line of Harley-Davidson motorcycle parts, accessories, general merchandise, riding gear and apparel. For more information, visit www.h-d.com.
The Harley-Davidson Screamin' Eagle/Vance & Hines Pro Stock Motorcycle team is sponsored by Dunlop.