It's been a banner year for talented dragbike pilot Brunson Grothus. After securing a pair of wins in the PDRA series, the Grothus Dragbikes-backed rider is hoping to leave the ManCup Finals from Valdosta, Ga., Nov 11-13 with a Pro Mod championship. Grothus sits third in the championship hunt, a mere three points behind leader Travis Davis and two points behind No.2 Paul Gast.
"It will be exciting," Grothus said.
Grothus finished seventh in the PDRA point standings on the strength of winning both events he entered, the Memphis Drags, Aug. 12-14 and Dragstock XIII from Galot Motorsports Park, Sept 9-10.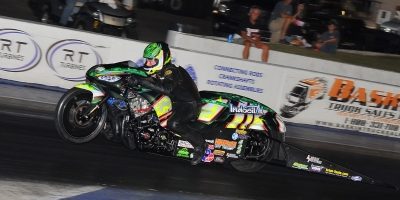 "Winning the Dragstock event at Galot Motorsports Park was a testament to the years of hard work and dedication of everyone at Grothus Dragbikes. We have been cutting our teeth for years by traveling across the country, racing against the best Pro Mods in the world and taking that knowledge and building the best bike we can," Grothus said.
The arduous and time-consuming, behind the scenes research and development has lifted the team to the front of the pack in what is considered one of most of the competitive classes in all of drag bike racing. Grothus says the teams's family business combined with knowledge from some of the sport's brightest minds have made a significant difference.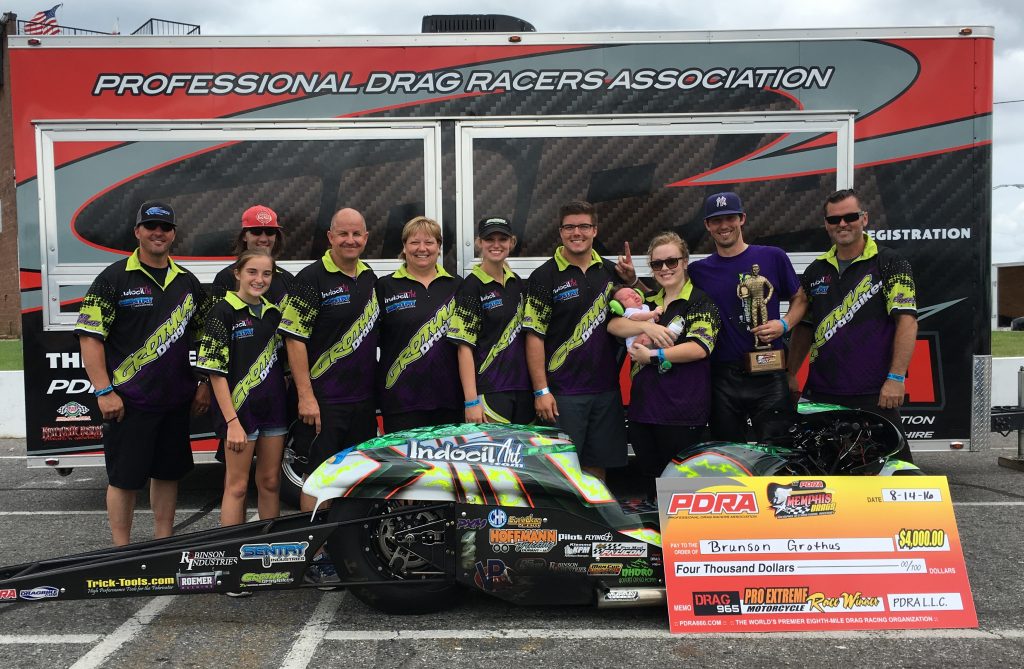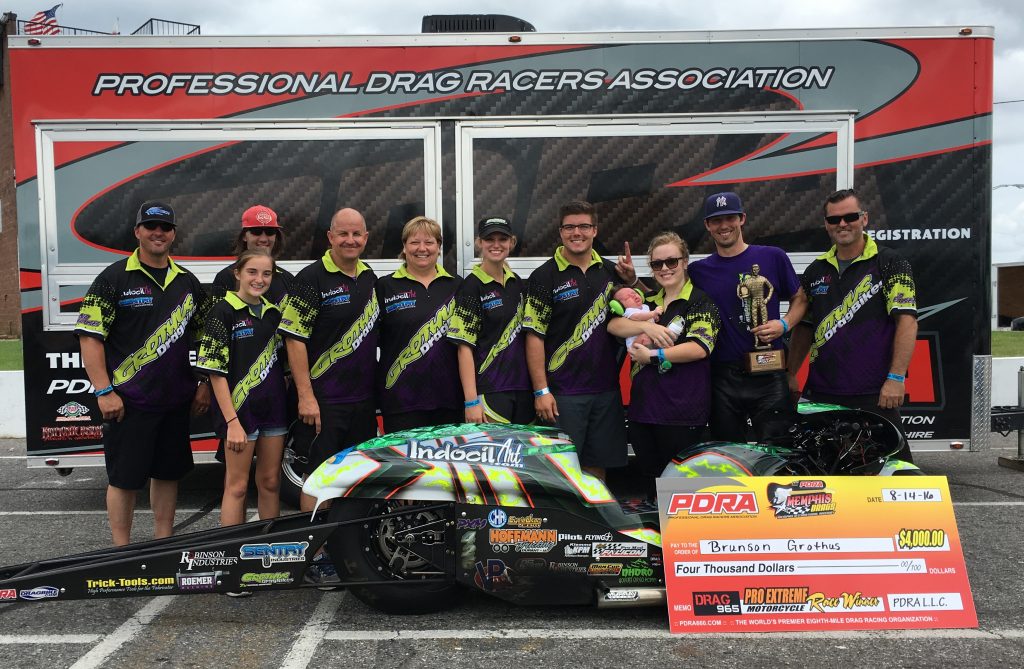 "The combination of the GDB (Grothus Dragbikes) 13-inch rear wheel, the Billy Vose CP Pistons, and tuning ability of my father Ed and very good friend Shane "Showboat" Eperjesj has noticeably boosted our GDB chassis' performance," Grothus said. "Certainly not to be forgotten or outdone is the motor work and assembly that has been done by my uncle Tom Klemme of Klemme Performance Motorcycle and longtime Pro Mod guru Dan Wagner of DTM Performance. These guys are essential to our performance."
It's also been a sentimental season for Grothus, who welcomed his first child earlier this season.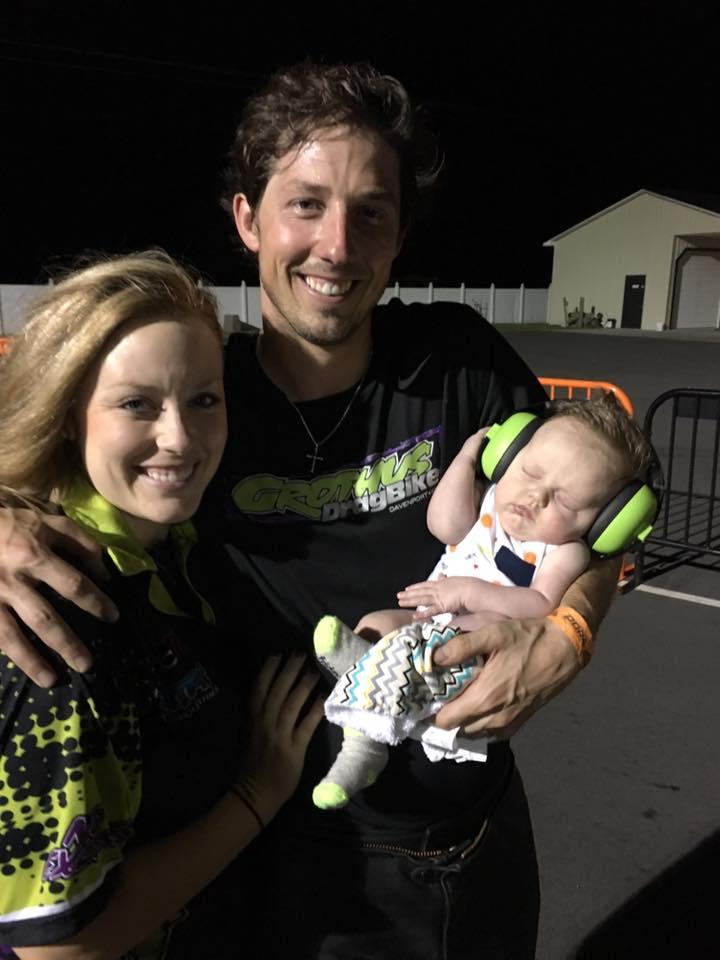 "Seeing the finals win light pop up on the scoreboard at Galot immediately brought chills to me. Having my wife Madeline and newborn son Graham there with me meant so much. It was one of those career defining moments you dream about as a rider and something I will cherish the rest of my life," Grothus said. "It makes the sleepless nights of work and travel, as well as the time and financial commitment all worth it."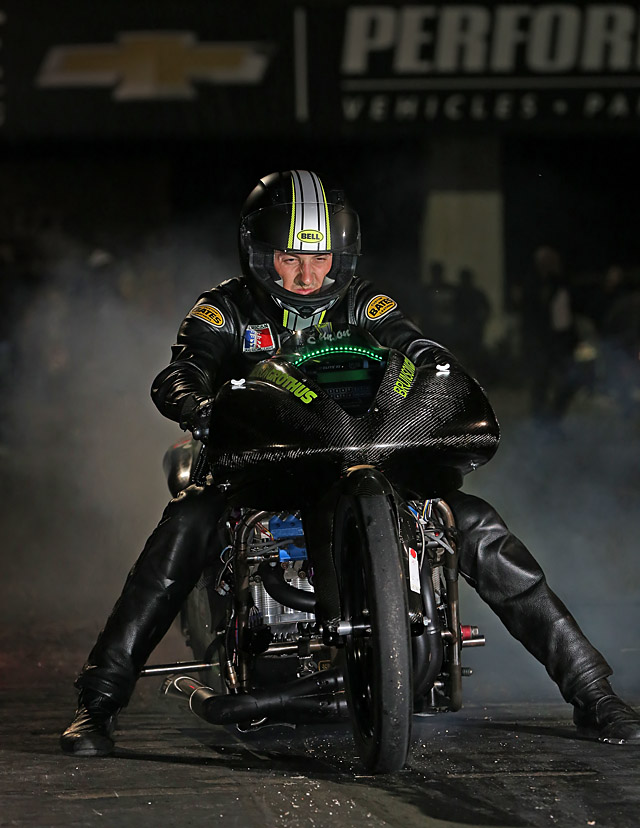 The only thing that could make 2016 sweeter for Grothus is a ManCup Pro Mod title.
"On behalf of GDB I would like to thank all of our marketing partners for their continued support as we continue in the 2016 season and beyond," Grothus said.
Grothus thanksed Indocil Art, Sentry Industries, Hoffmann Trucking, Klemme Performance Motorcycle, Robinson Industries, Schnitz Electronics, & Trick Tools. I would also like to thank the fine folks that support the media effort of our sport at Cycledrag.com, Dragbike.com, Eatmyink.com, & motormania.tv.
Make sure to visit the Grothus Dragbikes website to see their current selection of high-quality products and visit it often to see the updated inventory.