Hector Arana Jr. raced to his second Pro Stock Motorcycle win of the season when he defeated his father Hector Arana in the finals of  the AAA Insurance NHRA Midwest Nationals.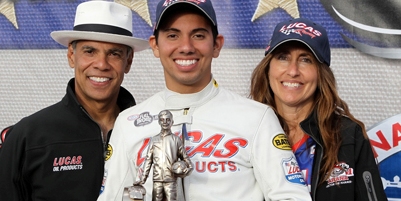 Arana Jr. raced his Lucas Oil Buell to a winning pass of 6.860 at 196.50 to his father's trailing run of 6.932 at 195.03, also on a Lucas Oil Buell. This is the first career win in St. Louis for Arana Jr. The win moves him to 34 points behind Andrew Hines and caps a significant week for the racer.
"This has been a great week; I don't know if I could ask for anything more," said Arana Jr. "On Monday, I pulled the trigger and asked my beautiful girlfriend [Nicole Nobile] to marry me and to get this win is just icing on the cake. I tell you what, that is a bittersweet win. I watched my dad win in the semis and I said to myself, 'I have to win' so we can see which one of us can take home the Wally. I want to see him win and of course he wants to see me win, but at the same time I want to beat him. We also needed this to move forward in the points."
The third of six rounds of the NHRA Mello Yello Countdown to the Championship playoffs is next weekend at the NHRA Keystone Nationals at Maple Grove Raceway near Reading, Pa.
FINISH ORDER:
Hector Arana Jr; 2.  Hector Arana; 3.  Steve Johnson; 4.  Chip Ellis; 5.  Jerry Savoie; 6.  Andrew Hines; 7.  Karen Stoffer; 8.  Chaz Kennedy; 9.  Mike Berry; 10.  Matt Smith; 11.  Eddie Krawiec; 12.  Adam Arana; 13.  Angie Smith; 14.  Brian Pretzel; 15.  Jim Underdahl; 16.  Scotty Pollacheck.ROUND ONE — Jerry Savoie, Suzuki, 6.980, 193.82 def. Scotty Pollacheck, Buell, 7.136, 185.64; Chip Ellis, Buell, 6.897, 193.54 def. Angie Smith, foul; Karen Stoffer, Suzuki, 6.919, 194.41 def. Adam Arana, Buell, 7.009, 191.59; Hector Arana, Buell, 6.907, 194.38 def. Mike Berry, Buell, 6.915, 192.00; Andrew Hines, Harley-Davidson, 6.858, 195.19 def. Brian Pretzel, Buell, foul; Steve Johnson, Suzuki, 6.867, 194.21 def. Matt Smith, foul; Chaz Kennedy, Buell, 6.974, 191.89 def. Eddie Krawiec, Harley-Davidson, 6.938, 193.99; Hector Arana Jr, Buell, 6.870, 196.42 def. Jim Underdahl, Suzuki, 7.098, 174.28;

QUARTERFINALS — H. Arana, 6.876, 195.22 def. Savoie, 6.866, 194.30; Ellis, 6.886, 193.49 def. Kennedy, 6.966, 190.97; Johnson, 6.919, 194.58 def. Stoffer, foul; Arana Jr, 6.872, 195.73 def. Hines, 6.882, 194.91;

SEMIFINALS — H. Arana, 6.889, 195.00 def. Ellis, 6.925, 193.16; Arana Jr, 6.881, 196.30 def. Johnson, 6.902, 195.42;

FINAL — Arana Jr, 6.860, 196.50 def. H. Arana, 6.932, 195.03.