Defending Pro Stock Motorcycle event winner Jerry Savoie raced to his first No. 1 qualifying position of the season and second of his career with his Friday run of 6.832 at 196.50 on his Savoie Alligator Farms Suzuki at the fourth annual AAA Insurance NHRA Midwest Nationals at Gateway Motorsports Park, the 20th of 24 events in the NHRA Mello Yello Drag Racing Series.
Savoie will face Scotty Pollacheck in the first round of eliminations.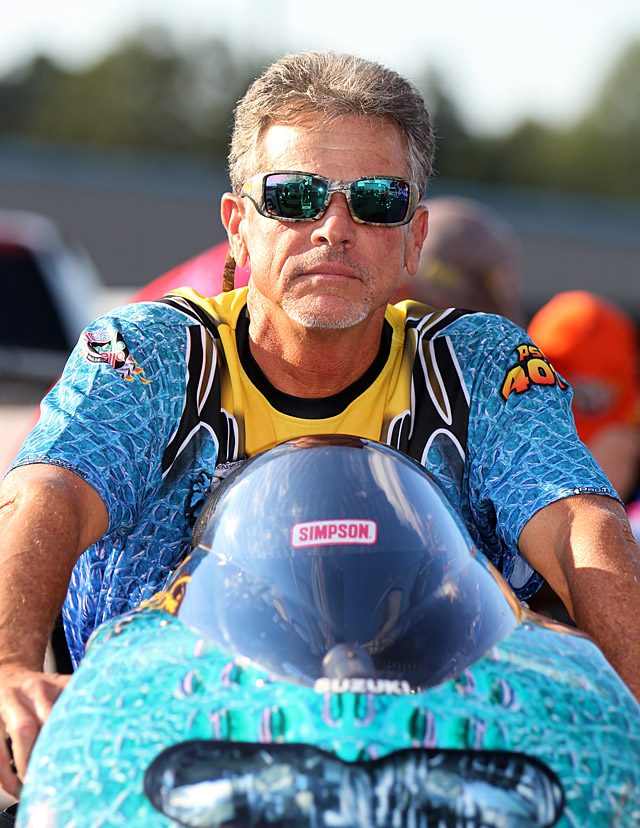 "This is good; I've been bumped off the pole three or four times this year by Chip [Ellis] and Eddie [Krawiec]," said Savoie. "I don't like getting squeezed out. I want to be the guy who dominates, but we got this one by the skin of our teeth. Andrew [Hines] almost got us at the end, but we held on. Now we can go for the gusto tomorrow."
Andrew Hines, who lead the Pro Stock Motorcycle points qualified second on his Screamin' Eagle Vance and Hines Harley-Davidson and will face Brain Pretzel. Steve Johnson qualified third, his best starting position of the season, and will face two-time world champion Matt Smith in the first round of eliminations.
Sunday's first-round pairings – Pro Stock Motorcycle — 1. Jerry Savoie, Suzuki, 6.832, 196.50 vs. 16. Scotty Pollacheck, Buell, 7.028, 191.32; 2. Andrew Hines, Harley-Davidson, 6.839, 196.47 vs. 15. Brian Pretzel, Buell, 7.016, 191.67; 3. Steve Johnson, Suzuki, 6.852, 195.73 vs. 14. Matt Smith, Victory, 6.984, 192.55; 4. Chip Ellis, Buell, 6.856, 194.69 vs. 13. Angie Smith, Victory, 6.953, 189.20; 5. Eddie Krawiec, Harley-Davidson, 6.861, 195.65 vs. 12. Chaz Kennedy, Buell, 6.950, 192.41; 6. Karen Stoffer, Suzuki, 6.868, 196.44 vs. 11. Adam Arana, Buell, 6.929, 193.40; 7. Hector Arana Jr, Buell, 6.886, 196.16 vs. 10. Jim Underdahl, Suzuki, 6.926, 195.48; 8. Hector Arana, Buell, 6.889, 195.22 vs. 9. Mike Berry, Buell, 6.916, 192.71.