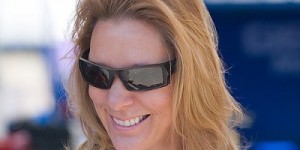 GEICO Suzuki Pro Stock Motorcycle rider Karen Stoffer used a monster run of 6.929 seconds at 194.16 mph in Saturday's final qualifying round to earn the No. 2 starting position at the 31st annual Summit Racing Equipment NHRA Southern Nationals at Atlanta Dragway.
Although she was all smiles by the end of qualifying, Stoffer's weekend had an inauspicious start after she stumbled in Friday's first qualifying session due to a mechanical issue. Fortunately, crew chief Gary Stoffer and the GEICO Suzuki team quickly diagnosed and fixed the problem, which turned out to be no issue at all.
"We haven't missed a session in a long time but to come back so quickly and get one of the top spots in the field says a lot about this team," Stoffer said. "Huge, huge applause and accolades to the guys for getting this bike turned around. It's a great confidence booster going in to tomorrow."
Including Houston, Stoffer has now qualified second on the grid in back-to-back races. She qualified fourth in the season-opener at Gainesville.
"If I remember correctly, Eddie Krawiec won the championship without winning a race," Stoffer said. "He was just extremely consistent all year. Sitting No. 2 every race certainly can't be bad. I'd take it right now if someone offered me that deal."
Stoffer was runner-up in Gainesville and reached the semifinals in Houston. She's a past winner at Atlanta, so she knows the way to the winner's circle.
"The team's very confident," Stoffer said. "Anything can happen, and race day can be totally different, but we've been very consistent this year. It's just a huge boost for the team. I'm looking forward to going into tomorrow with that same confidence."
Sunday's Pro Stock Motorcycle eliminations will begin with Stoffer opposite Mike Berry, who qualified with a 7.009 at 190.19 mph.