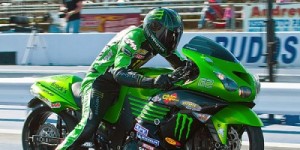 Rickey Gadson fielded his trusty, Brocks Performance-backed ZX-14 for the first time this season at the MIROCK Spring Nationals in Budds Creek, MD.  After a shaky start the bike performed well, considering it was amazing that the bike made it to the event at all.
Gadson's Monster/Joe Rocket Kawasaki ZX-14 last saw action at last year's MIROCK final at Rockingham where the bike crashed after a rod let go and the rear tire locked up.  Gadson pulled pieces off the bike, including the BST wheels and Ti-Winder exhaust, and put them on his land speed ZX-14, which was exhibited on the Progressive International Motorcycle Show tour during the winter.
Gadson was hard-pressed to get the bike ready for the MIROCK event.  He received the new motor the week before the race, but had a scheduled three-day Drag Racing School to run and six school bikes to prepare.  The school ended on Thursday, and it was a mad dash to get the bike ready.
Adding to the pressure is that Gadson's contract with Kawasaki is strictly promotional.  They no longer employ Coby Adams to prepare the bikes, so Gadson has to prepare, transport, tune and ride the bikes himself.
Friday's test and tune session was missed entirely, and it was badly needed.  Gadson didn't get a clean lap down the track for any of the three qualifying sessions on Saturday.  He ended up qualified 12th in the 16-bike field.  The problems continued during Sunday's pre-elimination shakedown run.
"I was discouraged," said Gadson.  "I knew the bike was fast but I couldn't get it down the track. I changed a lot of things, and crossed my fingers.  I said, 'If this leaves the line, watch the scoreboard!'"
In the first round of eliminations the bike left and Gadson rang up an 8.00 to the dismay of his shocked first-round opponent David Merks.
In round two Gadson missed a shift but still managed an 8.12 to put Johnny "Turbo" Dobrin on the trailer.
In the semifinals, Gadson met number one qualifier, Jeremy Teasley, for what would be one of the best races of the event.  They left together and had nearly identical 60 and 330-foot times.
"I saw out of the corner of my eye his front wheel go in the air, and I thought I had him," said Gadson of the final.  "Then my wheel came up.  His wheel was still up, and he was a half bike out on me."  Teasley won the match, 7.89 to 7.95 in what was the quickest side-by-side DME Real Street race of the weekend.
"I call it a successful weekend," said Gadson.  "I went a 1.34 60-foot twice and that was the best in the class.  I am still amazed that in went a 7.95 with the wheel up. I can't wait to get a full pass in, and see what it does."
The Debut of the 2010 ZX-10R
The MIROCK event was the first big event to see Gadson's next-generation 2011 ZX-10R in action.  Gadson had Teasley and his nephew, Richard Gadson, making laps on the bike.
"This particular 10R is serving as my development bike," said Gadson.  "I have been working closely with Brocks Performance and other manufacturers to develop components."
Currently it's is set up in basic SuperSport trim with stock wheelbase, has a Brock's Performance slip-on, Bazzaz EFI, clutch mods, 20 pounds of ballast as well as being lowered and geared for 1/4 mile racing.  It does not have any of the advanced "SuperSport" mods like ceramic bearings, 5-angle valve job, increased compression or adjusted cam timing; the engine is still all stock.
Richard brought the bike to pair of 8.94 elapsed times but Teasley made the hot lap of 8.88 at 159 mph.  To go 8.88 with a slip on pipe and bolt-on parts is amazing," said Gadson.  "Brock was involved with this bike from the beginning and will be instrumental in its development.  We came up with the clutch package together and he is working on a full exhaust system that he thinks will get another 6-7 horsepower out of the engine.  We think this new ZX-10R is going to be really fast. We foresee running a ZX-10R in Real Street."
"Brock supports my whole program," continued Gadson.  "He supports my race bikes and my school bikes. Brock is what Muzzy used to be to me. Brock stepped in where Muzzy left off.