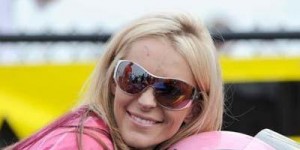 Angie Smith and her Coffman Tank Trucks Buell headed to the 31st annual Summit Racing Equipment NHRA Southern Nationals in Commerce, Georgia this weekend. Smith went in with hopes of breaking her way back into the top-10 in points.
Smith qualified in the number 13th spot by the time Sunday had rolled around. She would have to face the multi-time Champion of Andrew Hines first round. Smith knew she would have to be on her A-game, and that she was…
Cutting a perfect reaction time (.000) against the Champ, Smith did all she could do. But fell a tad short as Hines would drive around her at the 1000 ft mark. Smith would lose the round by less than two feet.
"I'm just frustrated," said Angie Smith. "I had a perfect light first round and it just wasn't enough. I did all I could do. The bike just didn't run like we had hoped it to."
The Pro Stock Motorcycle field will run again June 2-5 in Englishtown, New Jersey.