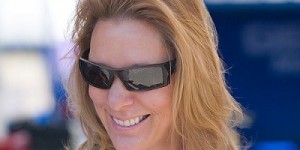 Not long after GEICO Suzuki rider Karen Stoffer was eliminated in the first round of Sunday's fifth annual Summit Racing Equipment NHRA Nationals she was smiling and greeting fans in the GEICO pits.
Though the defeat stung the Pro Stock Motorcycle points leader, Stoffer's fans helped raise her spirits and put the thought of her first Round 1 loss of the year behind her.
"You want to go down and make a pass for the fans," said Stoffer, whose bike didn't make it off the line. "Not only do I want to ride the GEICO bike and the team wants to see it perform, but the fans really want to see it. You don't like losing on a mechanical issue or something like that where you can't even get off the starting line. That's tough. That's a rough way to lose.
"But it does feel better when your fans come over and wish you good luck and ask you about it. They understand, and they all cheer you up. It makes you feel better."
Norwalk was the first hiccup of the season for Stoffer and the GEICO team. She had won at least two rounds in every race this season, reaching the finals three times. But on this day, as Stoffer approached the starting line in her first-round matchup against Jim Underdahl, the bike's engine shut off and wouldn't refire.
"That's certainly not the way we expected our weekend in Norwalk to turn out," Stoffer said. "We have good equipment. It was just one of those deals. I felt something in the waterbox when I put it in gear. I thought it was going to be OK. Then the motor shut off before I got to the starting line."
Stoffer had not experienced any issues with the engine in qualifying, where she slotted in fourth with the quickest pass of round two.
"Everybody's heart broke on the starting line, but we'll mend it and come back in Chicago," Stoffer said. "We'll go back to our same program of being consistent. That's what's been helping us through."