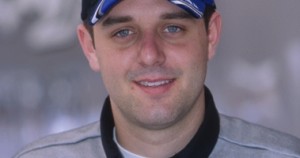 GT Tonglet notched his first 2011 round win in upsetting fashion Sunday when he eliminated Hector Arana Jr. – the No. 1 qualifier – in the first round of the Summit Racing Equipment Nationals.
Tonglet, the No. 16 qualifier, put the Nitro Fish/Tonglet Racing Pro Stock Suzuki GXP into the lead from the starting line with a .026-second reaction time and was unchallenged. He was timed in 7.023 seconds at 188.02 while Arana, who had a .103-second reaction, took 15.041 seconds at 49.14 mph.
"That was a good first round," said Tonglet, who was competing in his second race of the season on a new Suzuki. "We stole one from him."
Tonglet improved his reaction time to .007-second against David Hope in the quarterfinals but Hope won, 6.993 at 190.30 to 7.023 at 190.30.
"I had a good light, but David had the better (racing) package," Tonglet commented, "but we are taking strides forward. We do have some problems to sort out, but we are going in the right direction."