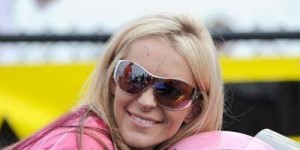 Angie Smith has been running career best numbers over the past few races, including this past weekend in Norwalk, Ohio.
After rain washed out the first two qualifying sessions on Friday at the Summit Racing Equipment NHRA Nationals, Smith knew she needed to make the last and final two attempts on Saturday count.
She posted a 6.983 et 189.18 mph during qualifying, which put her in the 10th position heading into Sunday's race day eliminations. She would have to face the 2009 Champion, Hector Arana first round.
Once again Smith was apart of the fastest pair during the first round. Running the fifth quickest time of the round at a 6.992 et, Smith would lose a frustrating race due to Arana's quicker 6.952 et.
"It is so frustrating," said Angie Smith. "We have been running really well, just always seem to come up against the wrong bike. We could run almost any other bike and win, but oh well what to you do. We will keep fighting. Hopefully we can find ourselves a primary sponsor to keep us out here as well."
Smith has had some help this year from Coffman Tank Trucks, but is searching for a primary sponsor to keep her out here for the rest of the year.
The next stop is in two weeks in Joliet, Illinois for the NHRA Full Throttle Pro Stock Motorcycle class.