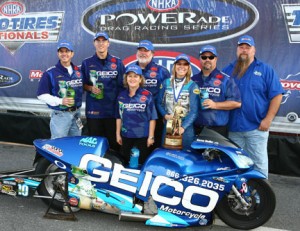 NHRA Pro Stock Motorcycle standout Karen Stoffer will have some extra space on her wheelie-bar panels for 2007.
Stoffer, who finished tenth in the POWERade point series the last two seasons, assembled a career-best effort in 2006, concluding the season in the No. 6 spot. The prestigious ranking marks the best finish of Stoffer's professional racing career and has earned her the right to proudly enter each race in 2007 as No. 6 to signify her top-ten status.
"It's one of the best feelings," Stoffer said.  "To finish four positions higher than we have ever been makes me really proud.  As a team we felt like we had a lot of drive coming into the season.  It's great to see it all come together."
Stoffer finishes the year with one event win (Reading), one runner-up (Englishtown), and a pair of semifinal finishes (Atlanta and Memphis).  Stoffer broke another milestone in 2006 when she became the final rider to join the exclusive eight-member Mickey Thompson Six-Second Club, by running 6.97 in Reading.
"The Reading race was definitely the high point of the year for us," Stoffer said of the event where she earned career victory No. 3.  "Running the six meant an awful lot to us.  During that session I didn't think we were going to make the final cut for the Mickey Thompson Club.  We were at the back of the pack and there were so many great bikes in front of us. Luck was definitely on our side."
Stoffer went on to run another 6.97 later in qualifying. The run made her the fifth quickest rider in the history of the class.
"To come back and prove it wasn't a fluke meant a lot to me," Stoffer said.  "We had such a great handle on the tune-up at that track. I give the team so much credit."
With the parity of the class and the onslaught of the championship-contending Harleys and Buells, many would agree 2006 was the most competitive year ever in Pro Stock Motorcycle. Stoffer doesn't see things getting any easier in 2007.
"Every year you feel like it's the toughest year ever," Stoffer said.  "Every team is working really hard and the class is really evolving.  There were points in the season when each brand dominated.  Our goal is to keep working hard over the winter to stay on the cutting edge."
The next goal for Stoffer and team GEICO – a No. 1 plate.
Stoffer went on to extend special thanks to all of the 2006 sponsors and supporters.
Geico Motorcycle Insurance 1-866-326-2036, Speed Dawg, Mac Tools, Bates Leathers, NGK, Airtech, Wrath Motorsports, Square One Graphics, Vance and Hines Motorsports, Cycledrag.com