Most of the victors in MIROCK Quick 32 have been powered by one of two engine combinations – the classic Kawasaki Z/KZ and the Suzuki GS.
Jason Zittle of Hanover, Pa. scored a victory for the late-model fans when he rode his state-of-the-art FBR shop ATAK Hayabusa to a win in Quick 32 at the final MIROCK event of the year in Rockingham, NC, on Nov 12, 2006.
The machine, owned by Ken Lewis, is based on a 2004 Busa, featuring stock bore, Ross pistons, two intake cams in a FBR stock valve head and a MTC lock up that usually runs in the 8.45 range.
"Jason normally races a Busa street bike with a turbo but thought that a change to a bar bike may give him a better chance at the Quick 32 money," reported FBR Shop owner Marion Ford. "He had raced the bike only once before but looked like a vet at the Rock. Ken rode the same bike in the 5.60 class and went to the quarter finals."
Ford also said the ATAK bikes are generally very low maintenance.
"The bike would run the full quarter and come back for gas, air and a rider change then race the eighth without ever missing a beat," Ford said.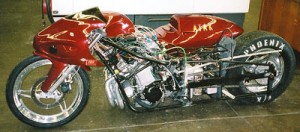 The team thanked the FBR shop, MTC, PMFR, Mickey Thompson Tires,
Ross,  and Beasley Fiberglass for the win
An Example of an FBR ATAK Bike that could be yours