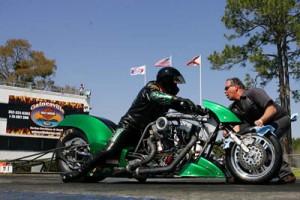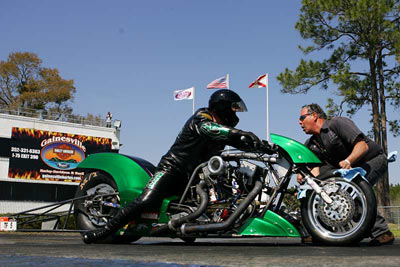 Nitro Harley racer Tracy "The Bad Apple" Kile assembled a successful late season charge that helped him to land the No. 6 spot in the  competitive AHDRA points chase and post a career best 6.27 in October.
After a dismal start to the 2006 season Tracy Kile seemed to find the momentum he was looking for when he rode his apple-green nitro Harley to a pole position and a runner-up finish mid-season, at the AHDRA Kresto Pacific Nationals from Seattle in late-June. The team's long journey from Hatfield, Pa to the West Coast proved incredibly beneficial, as Kile not only scored a trip to the final, but also gained the essential drive he needed to finish the season strong. Kile's consistency continued to improve from that point on.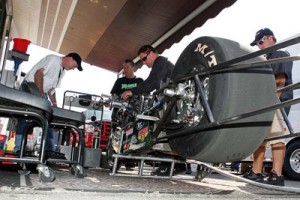 Kile had the quickest bike at the Hannum's Harley Davidson Festival at Cecil County Raceway in late-September and qualified in the No. 2 spot at each of the final two AHDRA races, including a career best 6.275 at 217 mph at the Rockingham race in mid-October.  The stellar pass was the fifth quickest Nitro Harley run ever and moved Kile up to 19th on the quickest dragbike riders of all-time list
During qualifying of what proved to be a windy AHDRA JIMS Las Vegas Final Kile posted an impressive 6.43 pass, falling just short of pole-sitter Tak Shigematsu's 6.38. During opening eliminations, and after Kile was forced to change a rear tire from Saturday, the bike launched abnormally and pulled hard to the centerline. Kile was forced to chop the throttle and, amongst his hot streak, suffered a rare first round defeat.
"When in Vegas you never know when your luck is going to run out," Kile said. "I'm really proud of they way we were able to turn things around for the second half of the season though."
For now Kile his hoping he can start the 2007 campaign with some of that 2006 late-season magic.