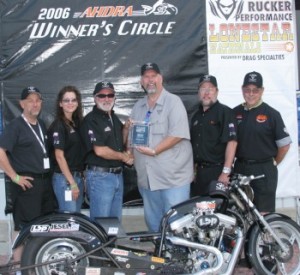 AHDRA Pro Mod Racer Junior Pippin has been virtually unstoppable for the last three seasons.
With another title added to his resume in 2006 Junior Pippin has become one of the most successful AHDRA racers of the new millennium. Pippin has won five championships in the last seven years and he has led the Pro Modified points chase for a full three consecutive seasons.
"Not too bad for a 53-year old guy," Pippin said. "This isn't all about Junior though.  I have a great crew and great people around me that make it happen. It's a total team effort."
Pippin finished a hefty 322 points ahead his most threatening adversary, Shaun Reno, without even attending all 13-points paying events. A health scare in September caused him to miss the Jim McClure Nationals in Dinwiddie, Va. Fortunately for the champ he was just as successful battling back from a stroke as he was on the race track and was able to make a full recovery.
"I knew I couldn't die.  Only the good die young," laughed Pippin.
Conyers, Georgia-based Pippin also opted to sit-out a couple of the travel-intense West Coast races. Out of the 10 races Pippin attended this season, he won seven, and went to the final at nine of them.
At the final race of the year in Vegas Pippin ended his season just as impressively as he began it.  Pippin continued his season-long hot streak and captured his seventh win of the season by defeating Bruce Beltramini in the final with an 8.28 to Beltramini's 8.48.
"I just took off and never saw him again, and that's always a good thing," Pippin said.  "It was great to see Bruce in the final.  He's a great friend of mine and a big asset to the class.  It's a pleasure to be associated with all the fine racers out here."
Pippin says it's much too early for retirement and hopes to make it four in a row in 2007.