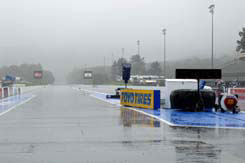 With only three races remaining in one of the most competitive NHRA Pro Stock Motorcycle seasons ever, several teams couldn't wait to compete in the NHRA Toyo Tires Nationals from Maple Grove raceway in Reading, Pa. However, mother nature put an abrupt end to the enthusiasm. Persistent rain showers cancelled Friday qualifying and flooded the spectator parking lots. On Saturday the decision was made to postpone the event until September 28th. "I'm a little bummed because I really wanted to maintain our momentum," said Geico-backed Karen Stoffer who is currently ranked sixth in the series. "It's hard to wait two weeks when you get up to go race, but I think NHRA made the right decision." Stoffer is 4-3 in the last three races and is only 60 points out of fifth place, her goal for the season. Stoffer's battle for a career first top-five is just one of the many compelling storylines in this year's chase for the title. In two weeks the spotlight will again be on two-time defending series champion Andrew Hines and No. 2 Antron Brown, who are only separated by eight points. Adding to the drama, the two ride for rival teams – Hines for the Vance and Hines Screaming Eagle Harley Davidson team and Brown for Don Schumacher's US Army Suzuki squad. Hines has yet to win an event at Maple Grove, but believes the team will be able to hold off Brown. "I haven't won there yet but it's one of the places you want to win badly because it has been a place that has showcased great performances in the past and the fans there are crazy for motorcycle racing," Hines said. "People love the Harley-Davidson V-Rods there, more than most places. It will push us to succeed." Hines' brother Matt won the race three times, 2000, 1999, and 1997. However, The US Army Team's naturally aspirated Suzukis have dominated the oxygen-rich Reading race the last few seasons. Brown's teammate and No. 3 in the points, Angelle Sampey, has won the event the last two seasons, and been to the final there each of the last three. Brown finished runner-up to Sampey in 2004. "I really have to win this race to stay in the world championship hunt," said Sampey, who is tied with John Force for most Maple Grove victories at six. "With just three races left there is no room for error." Brown recognized the significance of the race as well and praised his crew chief and team for putting himself and Sampey in such a good position to win the title. "It's real obvious to everyone that I have the equipment to win this thing. You have to take your hat off to Steve Tartaglia (his crew chief) and the entire U.S. Army team," Brown said. "They have been working their butts off all year long. Now, it's up to me to make sure I don't let them down."
Right on the heels of Sampey is the G-squared Buell of Chip Ellis, who has compiled a stellar 17-10 record on the year with a pair of event victories coming in St. Louis and Sonoma. Although unable to back it up within one percent to make in an official record, Ellis ran the quickest pass in the history of the class with a staggering 6.91 in Sonoma. That type of performance proves he has the power to beat anyone at any given time. Plus, he's got the luxury of having six-time series champ George Bryce as his crew chief. Then there's Ellis' teammate, fifth place Matt Smith, fresh off of his US Nationals win in Indy. Smith is a hefty 210 points out of the lead, but has also shown the ability to be a serious factor at any given time. He has complied a 15-10 record, with five first round victories.
Behind Smith is Stoffer, who only leads the seventh place Muzzy/Trim-Tex Buell of Ryan Schnitz by a mere 3 points. The V-Twins of No. 8 Tom Bradford and No. 9 Matt Guidera are only separated by 43 points. 2003 class champion, No. 10 Geno Scali is fighting off quality riders Craig Treble, Michael Phillips, GT Tonglet, Steve Johnson, and Shawn Gann just to stay in the top ten. This year's chase for the championship is undoubtedly one of the most competitive ever, and the three race dash for the championship all begins in Reading on September 28th. The motorcycle series then travels to Las Vegas, NV, in late October and culminates in Pomona, Calif. on Nov 12.
NHRA Pro Stock Motorcycle Points Standings
01 Andrew Hines 907
02 Antron Brown 899
03 Angelle Sampey 809
04 Chip Ellis 794
05 Matt Smith 697
06 Karen Stoffer 637
07 Ryan Schnitz 634
08 Tom Bradford 568
09 Matt Guidera 525
10 Geno Scali 488
11 Craig Treble 471
12 Michael Phillips 464
13 GT Tonglet 459
14 Steve Johnson 434
15 Shawn Gann 426