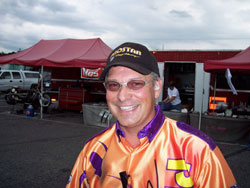 The 40th annual AMA/Prostar US Nationals from Atco, NJ didn't go according to plan. Well, at least for a select few that is. Of the three professional classes, all of the top qualifiers were forced to watch the finals from the grandstands.
Another surprise came just prior to the first round of eliminations when lame duck AMA/Prostar CEO Scooter Kizer, who plans to leave the organization to concentrate all of his efforts on his new position as AMA Road Racing director at the end of the season, announced that AMA/Prostar will be back in 2007 and will be taken over by a motorsports management group.
Kizer refused to give anymore details until the deal was finalized. Kizer would not clarify as to whether the organization is going to be sold outright or if he will continue to hold a stake in ownership. Although many were delighted at the news of Prostar returning, several big teams were heard grumbling about the lack of information.
"We have put everything on hold and we need answers very soon," Don Plessor of the PR Factory Store said. Several racers throughout the pits voiced their concern about sponsors wanting information regarding next year's schedule as soon as possible.
"This is when corporations are finalizing their budgets for next season. We need to know now," Nigel Patrick of Team Yamaha said. Nonetheless Kizer remained silent but confident that Prostar will indeed be back and he plans to provide further details at the World Finals in November.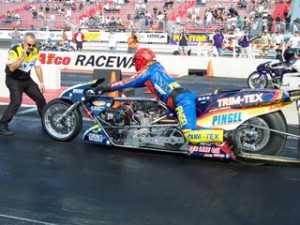 In Top Fuel five-time class champion Larry "Spiderman" McBride and defending Top Fuel champion Jimmy "The Hulk" Brantley were faced with something unusual -an enormous field of 15 motorcycles.
Because Funny Bike and Pro Mod were not contested at this event several competitors from those classes decided to take a chance against the two quickest and fastest dragbike racers in the sport today.
In session No. 2 of qualifying McBride recorded Atco Raceway's first five second pass with a 5.98 at 236 mph. The crowd went wild.
"This is something I have wanted to do for a long time. I love this place," McBride said of the track, which had recently been resurfaced and upgraded."
In opening eliminations McBride encountered problems with the clutch and suffered a rare first round loss to Pro Mod racer Dave Beck. McBride melted his rear tire off the line and was forced to abort the run, thus slowing to a 14.88. Beck was able to get the upset of his career with a 7.00. It was the first time McBride had lost in the opening round since the World Finals in 2002.
"We had a clutch cannon plug come out," McBride said. "I knew we were in trouble after I did the burnout. I was hoping we would find a way to pull it out, but hey that's racing. I'm real happy for Dave Beck and Jay Regan of MRE. Those guys work really hard and deserve a win."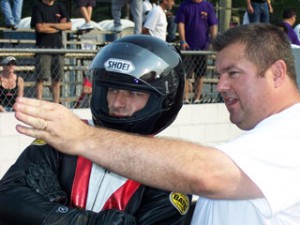 Unfortunately for Beck and Regan a piece of metal in the crank prevented them from continuing the Cindellera-bid.
"We knew if Spiderman had his stuff together he was going to win. But we also knew we had a chance to get by if something happened to him," said Beck, who will race the following weekend in Pro Stock at Santa Pod Raceway in England. "Before the second round we went to start the bike up and it just made a horrible noise. It's better it happens now instead of the World Finals in Pro Mod."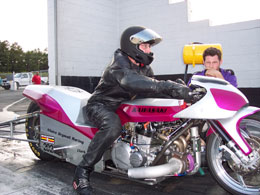 Consequently, Funny Bike racer Danny Allaire was awarded a broke bye in round No. 2 and advanced to his career first Top Fuel final. On the other side of the bracket Brantley performed brilliantly with wins over Yves Giard, and Danny Deleon, recording elapsed times of 6.66 and 6.25.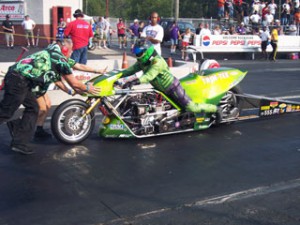 Brantley and crew decided to put a more aggressive tune-up in the bike and headed to the final to take on Allaire. Brantley got way out in front of Allaire and took the win with a strong 6.03 at 212 mph to Allaire's 7.83 at 112 mph. Brantley drifted toward the centerline and had to lift off the throttle at about 1,000 feet.
"That would have been a five for sure," Brantley said. "It was a great way to end the weekend considering what all happened. We blew the motorcycle up on Friday night and were able to get it back intact. I was disappointed to not be able to race Larry in the final but I'm glad we could win it for the team."
The victory was Brantley's second of the season, and significantly tightens the points battle between the two teammates heading into the tour's final race in Gainesville, FL.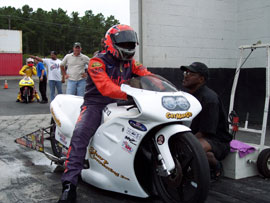 In Pro Stock NHRA tour regular, and as announcer Lewis Bloom best described him as a guy that has done the most with the least funding, Michael Phillips, had a breakout weekend. No.1 qualifier Paul Gast appeared to be on his way to dominating the event after hitting the tune-up dead-on during his opening bye run and posting a stellar 7.03. Gast followed it up with a 7.04 in round No. 2 to take out Bobby Legault's 7.34. Despite the strong numbers Gast wasn't overly confident.
"The way the conditions have been changing it could run a six or an .06. It's hard to tell."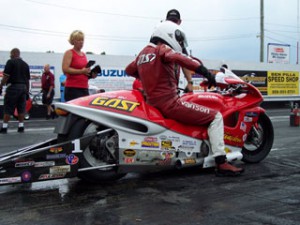 In the semifinals, with seemingly all eyes on Gast to perhaps run Prostar's first six, Michael Phillips beat Gast off the line with a .052 to Gast's .068 and finished the job at the far end with a 7.05 to Gast's 7.08. In the final Phillips recorded a career best 7.02 at 193 mph to take out Dean Frantz and his 7.17 at 186 mph. After the run Phillips stated that all the runs were made with an NHRA legal setup in preparation of the NHRA Reading race.
"We were 615 pounds every run. There's no sense in cheating myself," Phillips said. "We just gave it more fuel for the final. It was running a little lean. This gives me a lot of confidence heading into Reading. We're going to go sixes."
In Pro Street Velocity Racing's Mike Slowe was untouchable on race day. Slowe ran 7.48, and low-elapsed time of the meet 7.39, to beat Rocky Ward, and Tim O'Neil in the first two rounds. On the other side of the ladder pole-sitter Phil Stoll was ousted by multi-time class champion Kent Stotz in round No. 2 with a 7.59 to Stoll's 9.07. In the final Slowe easily defeated a wounded Stotz with a 7.45 to Stotz's 13.58. Afterwards it was reported that Stotz had lost air pressure in his tank that runs some of the critical components of the bike, including the turbo boost controller.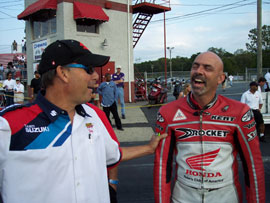 Velocity team owner Barry Henson had a good laugh with his former teammate Stotz after the run. "You guys got lucky," joked Stotz. Mike Slowe made the event even sweeter for the Velocity stable by defeating Rickey Gadson in the final of Super Street with an 8.16 to Gadson's 8.36. Amazingly, it marked the third time this season Slowe has won two classes at the same event.
"I can't even explain how awesome this feels," Slowe said. "I only live 40 minutes from here. This is my home track. All of my friends and family are here. This is only the second time my mom has ever been to a race and this is the first time my girlfriend has ever been to a race. They got to see me beat Rickey at his home track. That's not easy to do."
Additional Photos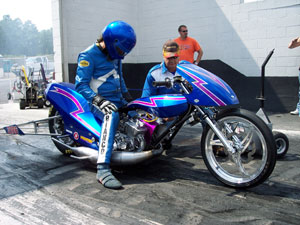 Several exotic two stroke machines were in attendance like that of Mike Bianco. Roger Wilhelm took the Super Eliminator win.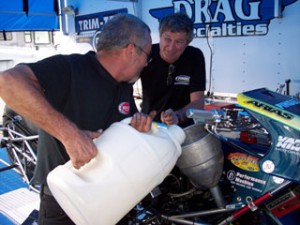 Steve McBride and Roland Stuart prepare Spiderman's bike for eliminations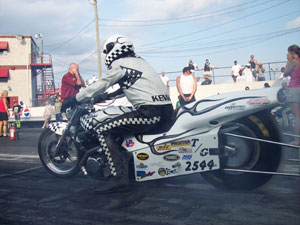 2002 Top Gas champion Kenny Dermanelian had a commanding outing and took the event win aboard his turbo charged Suzuki GS.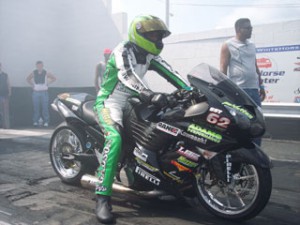 Hometown favorite Rickey Gadson celebrated his birthday with a runner-up finish in Super Street.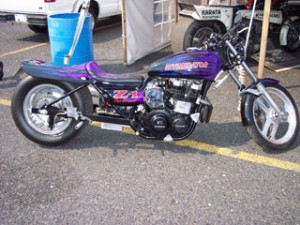 Winner of the Lumberjack's Choice award for nicest custom Pro Street bike.