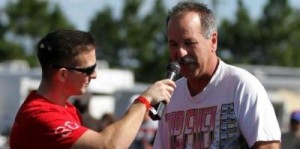 The big news of the weekend came when AMA/Prostar CEO Keith "Scooter" Kizer announced that AMA/Prostar will be back next season and it will taken over by a motorsports management group. Kizer refused to give anymore details until the deal was finalized. "I can't throw any names out there and let somebody try to screw this up for us until it's a done deal," asserted Kizer. Nonetheless Kizer was more than confident that Prostar will run in 2007.
A full event recap with photos is coming soon.
Top Fuel
W Jimmy Brantley .119 6.03 212 mph
L Danny Allaire .048 7.82 112 mph
* No. 1 qualifier Larry McBride encounter clutch problems and was upset in the opening round by Dave Beck.
Pro Stock
W Michael Phillips .110 7.02 193 mph
L Dean Frantz .073 7.17 186 mph
* Phillips ran the career best 7.02 with an NHRA legal setup. No. 1 qualifier Paul Gast was upset in the semifinals by Phillips
Pro Street
W Mike Slowe .169 7.45 192 mph
L Kent Stotz .092 13.58 76 mph
* Stotz lost pressure in the air tank that runs the bike's boost controller.
Sportsman Classes
Supersport
W Jeremy Teasley .132 9.19 155 mph
L Victor Gotay .029 9.31 152 mph
* Despite a rough outing point leader Vince Woska has determined showing up at the World Finals will clinch him the championship.
Hot Rod Cruiser
W Ryan Edmondson .069 9.23 142 mph
L Rick McWaters .076 9.31 145 mph
Super Street
W Mike Slowe .127 8.16 179 mph
L Rickey Gadson .079 8.36 170 mph
*Slowe spoils Gadson's birthday party at his home track by defeating him in the final, thus earning his third double-win of the season.
Top Gas
W Ken Dermanelian .029 8.18 156 mph
L Pete Barnhardt Deep 8.19 157 mph
*Former class champ Kenny "D" was set on kill all day long
Super Comp
W Ron Procopio .044 8.98 156 mph
L Andy Baumbach Deep 8.87 141 mph
Super Gas
W Mark Coulson .021 9.93 134 mph
L Mary Sutton .052 9.92 134 mph
Super Eliminator
W Roger Wilhelm .070 10.00 125 mph
L Daniel Boyer .113 9.78 129 mph
*The two strokes were a crowd favorite at Atco
Pro ET Saturday
W Debbie Knebel .012 8.85 146 mph
L Leslie Thomas -.006 8.13 160 mph
Pro ET Sunday
W Ron Legault .023 9.17 142 mph
L Rob Schenz -.002 8.90 146 mph
Street ET
W Rocky Ward .070 10.00 119 mph
L Bobby Prince .113 9.45 132 mph