This year's 40th running of the Orient Express US Nationals from Atco, NJ, includes everything that has made it one of the most popular races of the season – record smashing performances, beautiful South Jersey weather, and one of the best racer and spectator turnouts of the season.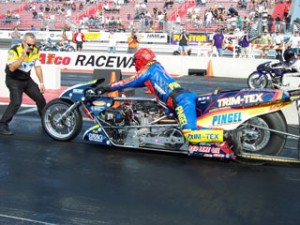 In Top Fuel Larry "Spiderman" McBride delivered Atco Raceway its long-awaited first sub-six second dragbike run with a strong 5.98 at 233 mph in session No. 2 of qualifying.
"It left really hard," McBride said. "We broke a crank trigger and that caused it to fall off a bit on the far end. If it would have ran on the top end that pass would have been a high-80." As McBride crossed the finish line, seemingly the entire crown rose to its feet to applaud the record run.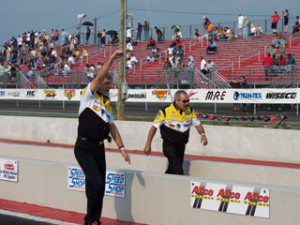 Crew chief Steve McBride climbed atop the concrete barrier in front of the tree and saluted the fans with crewman Roland Stuart.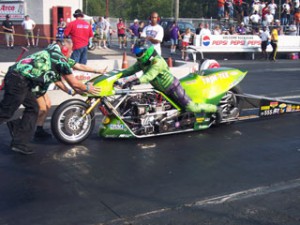 McBride's teammate Jimmy "Hulk" Brantley qualified second with a 6.21 at 221 mph. During Brantley's second qualifying lap he recorded the quickest 60-foot time of his career at 1.00, but was forced to lift off the throttle after the bike got out of shape around the 330 mark.
"It pulled so hard I thought the bike left me on the line," Brantley said. "It started going hard left to the wall and I had to get out of it."
AHDRA tour regular Bob Malloy qualified his nitro v-twin third with a run of 6.48 at 205 mph. The Funny Bike and Pro Mod categories are not included at this year's event and several racers from those two classes have made the jump to Top Fuel for an opportunity to compete.
Positions four through eight went to No. 4 Danny Allaire 6.71 at 199 mph, No. 5 Mimmo Marciano 6.88 at 192 mph, No. 6 Danny Deleon 6.92 at 170 mph, No. 7 Yves Giard 6.92 at 186 mph, and No. 8 Dave Beck 6.97 at 189 mph. After the session McBride made a rare appearance to the Atco timing tower for an interview.
"It was an unbelievable run," McBride said of his 5.98. "Like I have always said, Atco has been very good to me."
Sources close to the situation have indicated that AMA/Prostar CEO Keith "Scooter" Kizer is close to finalizing the sale of Prostar. However none of the rumors were confirmed. McBride addressed this issue in his interview. "I have mixed emotions right now. I hate to see Scooter go but I'm excited for new management to come in," McBride said to announcer Lewis Bloom and former Top Fuel champion Terry Kizer. "And I'm going to miss this guy over here (Terry). He used to whoop my butt all the time in the early nineties."
In Pro Stock, fresh of his first round win at the NHRA Indy race, Paul "The Professor" Gast had to abort his opening qualifying run – something the veteran rarely does. "I can't remember the last time I did that," Gast said. "I put a little extra weight on one side of the bike to make it go straight in Indy. It definitely wasn't the right setup for Atco." In round No. 2 of qualifying Gast clearly corrected the problem and redeemed himself with a 7.09 to take the pole position by over a tenth of a second. In the very next run Michael Phillips closed Gast's sizeable lead on the field with a 7.095 to take the No. 2 spot, just five thousandths behind Gast. Dean Frantz's 7.18 at 185 mph, and Shane Estes' 7.29 at 180 mph rounded out the top four. In all nine entries showed up to do battle.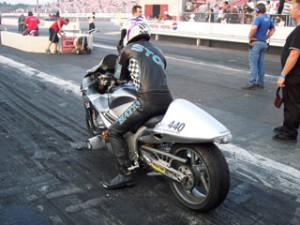 In Pro Street Brock's Performance Products backed Phil Stoll leads the seven-bike field with a smooth lap of 7.61 at 193 mph. Velocity Racing's Mike Slowe ended the day in the No. 2 spot with a run of 7.74 at 189 mph, followed by No. 3 Tim O'Neil 8.02 at 175 mph, No. 4 and multi-time class champion Kent Stotz 8.15 at 188 mph, No. 5 Norman Jackson 8.20 at 165 mph, No.6 Alphonso Thompson 8.27 at 154 mph, and No. 7 Rocky Ward 8.81 at 167 mph.
Stoll's lap nearly put two Brock-backed no-wheelie-bar bikes on the pole, including Supersport point leader Vince Woska, who ended session No. 1 with a 9.22 ahead of Richard Gadson's 9.23. In all 12 bikes are entered in Supersport.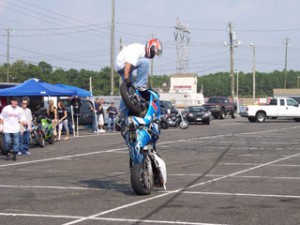 At the end of the day Atco Raceway track manager and one of the original AMA/Prostar founders Joe Sway said that the stout runs of McBride and others prove that the racing surface is now better than ever. "Running an all-bike event is a true test of how good the track is. It's much harder to tell with cars," Sway said. "After what we saw today there's no doubt that the track is in prime condition."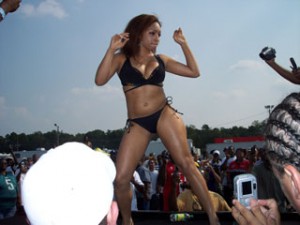 Along with the track resurfacing Atco has replaced the Armco steel guardrails with the more modern concrete racing barriers. This year's race seems more like a quasi-festival. Within the facility there was a bikini contest, a stunt show, motocross, a live band and huge tent filled with dragbike memorabilia for the Greg Guarinello auction.