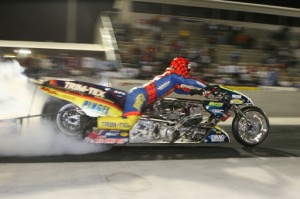 Five-time AMA/Prostar Top Fuel champion Larry "Spiderman" McBride is eagerly anticipating his return to the fabled Atco Raceway in New Jersey for the 40th running of the all-motorcycle US Nationals. "I've always loved Atco," McBride said. "There is so much history there. It's only a six hour drive from my house and we have been racing there longer than I can remember."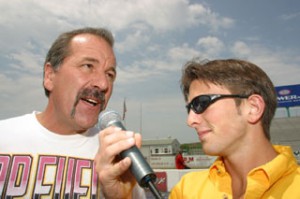 McBride has had a commanding presence in the Garden State, winning five of the last ten races contested there. He notched his first AMA/Prostar Atco victory in 1990 by defeating Terry Kizer, and garnered his most recent Atco win by beating Chris Hand in 2003. Following that event the series took a two year hiatus from Atco, to give the facility time to upgrade what was regarded by many as a bumpy racing surface. The improvements have since been made and McBride couldn't be happier. "We've done so much there that Atco will always be a special race for me," McBride said. "It was the place where I set my first ever national record way back in 1991. I went 6.49 for the record and beat Elmer (Trett) in the finals all in one weekend. It doesn't get any better than that."
This year's race will be particularly nostalgic. AMA/Prostar will host an All-Star Reunion inspired by the recent deaths of drag racing pioneers Ken Tipton, Greg Guarinello, and Mo Parsons. Several retired racers will be in attendance with vintage drag bikes and memorabilia. "I think that this is a really great idea," McBride said. "We can't forget about all the great people we have lost over the years. Atco is a perfect place to reminisce."
Throughout the weekend McBride, who holds the world record for the quickest and fastest drag bike at 5.80 at 245 mph, has an opportunity to create some history of his own. McBride stands a very legitimate chance of clocking Atco Raceway's first five second motorcycle pass. "From what I hear the new surface is as smooth as a billiard table, so it's definitely a possibility," McBride said. "We're going to give it our best shot." McBride has won five of the six races contested this season, and has been in every final this year with teammate and defending class champion Jimmy "Hulk" Brantley, who will also be a threat to record Atco's first five.
Since its inception the race has been run under the nameplate of various organizations, including the now defunct DRAGBIKE and IDBA leagues. Atco is where AMA/Prostar all began with its very first race for the championship in 1989. The AMA/Prostar US Nationals is recognized as the longest running nationally sanctioned drag bike race in the country.