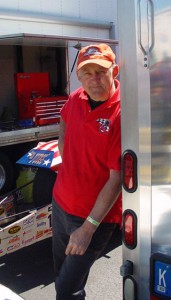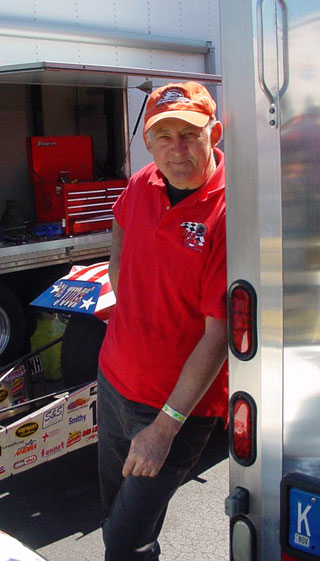 One of the all-time greats of motorcycle drag racing will be honored this weekend at one of AHDRA's most important events of the year.
As the Screamin' Eagle Performance Parts Championship Series prepares for the upcoming national event at Virginia Motorsports Park, there is excitement in the air along with sentimental thoughts. The inaugural S & S Jim McClure Nationals presented by Drag Specialties is titled in memory of the late Jim McClure, a 19-time drag racing champion and icon of the sport. McClure passed away in 2004 following heart complications. Known in racing circles as "Da Judge", McClure is a native of Williamsburg, Va.- making the Richmond, Va. area a fitting location to recognize and commemorate the man considered a hero to all that knew him. With that tribute will come a special opening ceremony on Sunday, when AHDRA is joined by Drill Sergeants from the Ft. Lee, Virginia Color Guard. Master Sergeant Tillman of the S3 NCOIC graciously lined up flag honors to be held prior to Sunday' s elimination's at 1:00pm. The ceremony will include a motorcycle parade of the Hampton Roads-Southside Harley-Davidson H.O.G. chapters that McClure belonged to. The dealerships along with Rivera-Primo were life-long sponsors of McClure's racing career. The parade will be followed by the formation of the Ft. Lee Color Guard for flag honors and the National Anthem. AHDRA will proudly welcome hundreds of active military and reserve personnel from the Ft. Lee base to enjoy the racing at Virginia Motorsports Park free of charge. AHDRA President, Craig Tharpe says it will be an honor to not only pay tribute to Jim McClure, but also a very fitting time to recognize the men and women who are courageously fighting for our country. Sunday's ceremony will be a time for us to remember the many lives that have been lost and to show support to the many men and women that remain in harms way", he added.
Despite defending champion Mike Romine's absence from the winner's circle at AHDRA's past two outings, the Sturgis, MI, rider still has a strong lead in the Top Fuel standings that could lead him to back-to-back championship titles. Romine is 229 points in front of North Carolina's Jay Turner while last year's No. 2 plate-holder, Doug Vancil is just two points shy of overtaking Turner.
At AHDRA's Bristol meet on August 12th and 13th, Romine qualified No. 2 with a 6.54 at 211 mph while Tak Shigematsu of Ehime, Japan, blasted down the quarter-mile, clocking a 6.39 at 214 mph for the top spot. Romine and Shigematsu met in Sunday's final. The D. J. Johnson-tuned bike piloted by Shigematsu brought on the horsepower again with a 6.44 at 215 mph for the win over Romine's 6.59 at 209 mph.
The series then headed out west to Woodburn, OR, on August 26th and 27th. Romine chose to skip the long haul from Michigan to Oregon, confident that the outcome would have no bearing on his current lead in the standings. "I knew coming into the season that it just isn't possible for us to make every race," said Romine, who also sat out Seattle. "Especially the ones on the west coast." It was veteran Larry "Drums" Brancaccio taking the Top Fuel winning honors at Woodburn Dragstrip. Brancaccio, from Nutley, NJ, piloted a bike backed by event sponsor Team Latus Motors Harley-Davidson and owned by Steve Dorn. Dorn was injured in an early season crash in Texas and turned the reins over to Brancaccio for the Woodburn event. Brancaccio turned out to be a good choice for the position as he advanced through the field to take on Chicago Joe in the event final. Brancaccio, who was phenomenal at the tree all weekend, got out with a .049 light to Joe's .067 and clocked a 6.84 at 200 mph for the win over a 7.41 at 199 mph from Chicago Joe. So with only three races reaming in the 2006 campaign who will emerge victorious.