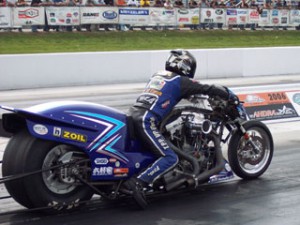 It was during the opening round of qualifying at the AHDRA S&S Jim McClure Nationals that Ehime, Japan-based Top Fuel rider Takeshi Shigematsu memorized fans with the quickest Nitro Harley run ever at 6.245 at 212 mph.
"I knew we had a chance to run some good numbers," Shigematsu said. "DJ (tuner Don Johnson) told me to hold on tight."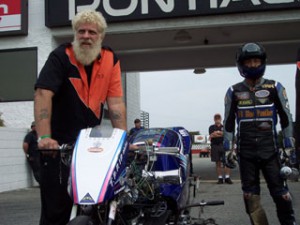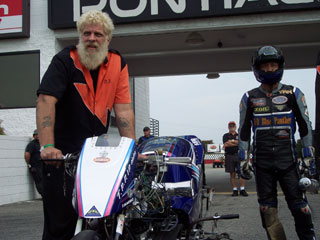 Shigematsu appears to be on quite a hot streak, fresh off his win at the Bristol race in mid-August and his 6.34 at a recent exhibition race in Englishtown, NJ. It's not easy to maintain that type of performance, especially when Shigematsu must endure a 16-hour plane ride anytime he wants to race.
"It's 16-straight hours with no cigarettes or toothpaste," Shigematsu said. "It's rough but it's worth it."
The 6.24 surpassed Doug Vancil's AHDRA record of 6.30 and Tommy Grimes' NHRA record of 6.25. Shigematsu, however, was unable to back the record up within one-percent during his next two attempts. In each of the subsequent runs Shigematsu overpowered the race track and smoked the tire off the starting line. To get the record he will have to run 6.307 or better during eliminations. If Shigematsu is successful in his endeavor Virginia Motorsports Park will own both the quickest Nitro Harley run ever and the quickest drag bike run of all-time. Larry "Spiderman" McBride holds that mark at 5.80. McBride was in attendance and came to the timing tower to do color commentary for the nitro classes. "They just need to go out and repeat and not get too greedy," McBride said of Shigematsu's bid for the record. "It's hard, because as racers we always want to go faster but it's too easy to overpower the racetrack."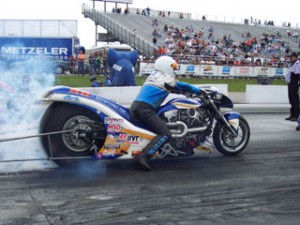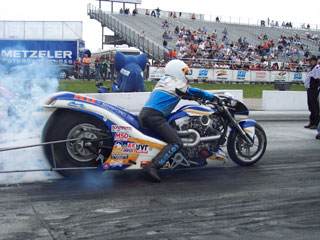 Meanwhile veteran Bob Malloy, who had ran in the 6.40-range at the AMA/Prostar race in Atco two weeks ago, qualified in the No. 2 spot with a stellar 6.35 at 202 mph. "That was the quickest high gear only pass ever," reported Malloy. "My bike is totally different from everyone else's out here. We have put all of our focus into a unique combination and the hard work is paying off." If Shigematsu is unable to back-up the 6.24, Malloy will have prime opportunity at breaking the AHDRA record of 6.30, with the 6.35 serving as a back-up.
Point leader and defending champion Mike Romine finished the day in the No. 5 spot with 6.56 at 211 mph. "I am trying out a totally new clutch set-up," Romine said. "It's not working out the way I hoped so I will probably go back to my usual set-up for Sunday. I think we can run the same numbers as these other guys, we always do."
No. 8 qualifier and Woodburn, OR champion Larry "Drums" Brancaccio had a scary moment in final qualifying when he drifted hard to the centerline and took out a foam block at over 180 mph. Brancaccio was not seriously injured but was seen limping after the run. "I'm mad as hell. My tire is going in the garbage and I am putting a new one on for tomorrow," Brancaccio said. "Everybody knows I don't like getting out of the throttle and I thought I could bring it back. On the fourth pass I was hanging off the bike with all my might and I couldn't bring it back. The tire went bad and wanted to wash out. I'm lucky it didn't kill me."
Former IHRA champ Vancil only made one pass and spent most of the day at a local machine shop fabricating a custom part for his clutch. Vancil reported that he will be ready for action on Sunday.
Screamin Eagle Top Fuel Final Qualifying
1) Takeshi Shigematsu 6.24
2) Bob Malloy 6.35
3) Tommy Grimes 6.42
4) Jay Turner 6.54
5) Mike Romine 6.56
6) Doug Vancil 6.59
7) Dean Comunal 6.63
8) Larry Brancaccio 6.70
9) Tracy Kile 6.73
10) Bill Furr 6.75
11) Mark Coner 6.83
12) Julian Seaman 7.22
13) Tii Tharpe 7.39
14) Greg Grove 7.81
15) Scott Ianaro 8.45
16) Tommy Sloan 10.21