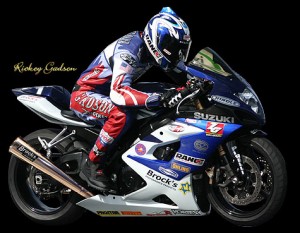 After a second consecutive All-Brock's Performance Products final, team riders Rickey Gadson and Vince Woska finished No. 1 and No. 2 in the points chase respectively following the season's final event, the AMA/Prostar World Finals, from Gainesville, FL, Nov. 11th-13th, 2005.
"It's incredible, I wasn't even going to race Prostar this year," Gadson said. "I already said my goodbyes and planned to not be back. To be out here and win another championship is an awesome feeling. We had a great year. We got five out of eight wins, you can't ask for much more than that."
"I couldn't be happier. I don't even know how to describe it. These classes are so tight and this is the second race in a row my team did everything right," team owner Brock Davidson said. "For Vince to get second in the championship, John Hall had to go out early and we had to find a way to get Vince to the final. Luck was on our side and we did both."
Gadson, who clinched the championship before even entering the race, qualified No. 1 with a 9.19 and marched to the final with times of 9.18, 9.27, and 9.25.
"What I love about this class is the close competition. One little mess-up and you're on the trailer. One little wheelie or sleep on the light and you're gone," Gadson said. "It's a really tough class."
Woska qualified in the No. 3 spot with an on-pace 9.25 at 155 mph, and scored much needed championship points earning victories with elapsed-times of 9.18, 9.20, and 9.22 en route to the final.
"It's been an up and down season for me," Woska said. "It's nice to end it on a positive note. It would have been better to win the race but I'm still happy to have made it this far at the World Finals."
"They both rode so well," Davidson said. "Both of them had really tight races and in each instance we came out on top."
"At this point in the season we couldn't be more pleased with our new GSX-R1000's," Davidson said. "Vince Sr. was really on the money with his tuning calls on Vince's bike and Rickey only lost one round the entire season on my personal bike."
In their second final round showdown in about a month, Gadson grabbed a starting line advantage and beat out his teammate to the finish line with a 9.32 to Woska's 9.30.
"I was on my game all day until the final," Woska said. "I stumbled off the line and wheelied pretty hard on the top of first."
"I'm 30 pounds heavier and a lot older than most of these guys I race against," Gadson said. "So it's very fulfilling for me to win this class because in the past I've been criticized because people thought I had unlimited resources. Well Brock is just a regular guy just like me, and together we did it. We had one heck of a season."