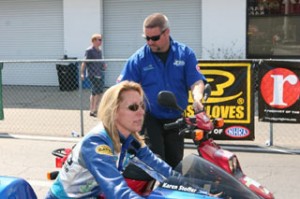 Sometimes terrible things happen to good people.  Such was the case Sunday October 23rd, when kind-hearted, fan-friendly NHRA Pro Stock bike racer Karen Stoffer was violently driven into the ground by the top of her transporter's heavy back door, which struck her in the head.
Long after the completion of the weekend's race at Las Vegas Motor Speedway Stoffer finished her usual packing and attempted to close the massive rear door of the rig.  Stoffer became sidetracked for a moment and walked away.  Just then the cable which holds up the door came loose and fell upon her.  The force of the impact caused Stoffer a broken pelvis, hand, nose, and cheekbone.  She also sustained cuts to her head and dislocated a finger.  Fortunately team member Debbie Johnson is a registered nurse and was on the scene immediately.
Stoffer was well aware of the potential hazard the back-door could become and ironically just before the accident, exemplifying her unselfish nature, she made sure to clear everyone from out under the structure, warning them, "This could fall."
After the door came down on her, Stoffer was pinned to the ground and her forearms were all that was keeping her face from the asphalt. Remarkably Stoffer never lost consciousness, and even more incredible, she never shed a tear.
"I couldn't believe it.  If that was me I would have been crying my eyes out," Karen's husband Gary Stoffer said.  "That girl is so unbelievably tough.  After we got the door off of her she just laid there and told us her pelvis is definitely broken."
Karen's proclamation proved correct and after being transported to the University Medical Center doctors found a three inch separation in her pelvis.  Stoffer underwent a successful surgery on Monday night and the doctors believe in time she will make a full recovery.
"She's in a lot of pain right now, but it's getting better everyday," Gary said.  "The nurse gave her a sponge bath yesterday and it hurt her really bad to roll over."
So after this horrific life-threatening accident one would think racing isn't even on Stoffer's mind.  Gary says think again, and in fact, she demands to race again.
"To make her feel better I said we won't be able to do any testing over the winter but maybe you will be ready for the start of next season," Gary said.  Karen then asserted," Don't tell me I'm not testing! I'll be back on that bike as soon as they let me."  "I guess she told me," laughed Gary.
Stoffer has proved to be one of the most mentally tough and resilient drivers in all of racing.  She bounced back from two horrific crashes in the last four years, one at the top end of Gainesville Raceway prior to the AMA/Prostar event in 2002, and one at the NHRA Columbus race last season.
"I think what has really helped her is that she is in such good shape," Gary said.  "She is a workout freak, and she never gives up."
Unfortunately for Stoffer the accident couldn't have come at a worse time.  With only one race remaining on the NHRA tour she is on the verge of the best POWERade points series finish of her career.  Stoffer has one win and two runner-up finishes on the season that have earned her an eighth place standing in the hotly-contested points series.
"Even missing the last race we're hopeful she will stay inside the top ten," Gary said.  "She had a fantastic season."