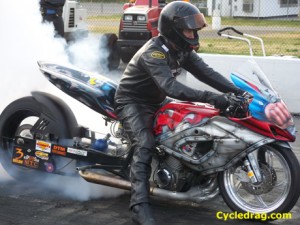 To say the Super Street class has a low turnout would be a gross understatement. On this particular weekend you could count the number of entries on just one hand – even if you cut off three of your fingers.
However class winner and eager promoter Darren Burnett sees a lot of potential within the class.
"I even had several racers come to my pits inquiring about the class, telling me they were building bikes for next season in hopes the class would return," Burnett said. "I hope it does, but with poor turnouts it didn't look good. I asked them if nothing else, compete with the bikes they had just to support the class and to show Prostar there was interest."
Burnett won the class over Jon Johnson with an 8.55 to Johnson's 9.24.  "It was a long weekend. I was fighting mechanical issues with two different bikes and again riding three bikes in three classes with very little sleep," Burnett said.
Based on his stout performance, outgoing leadership of the class, and self reported lack of sleep we decided to let Burnett have the top of the soapbox for a bit.
"Man, I got to tell ya, Superstreet turnout was very disappointing to say the least. Honestly it is frustrating for me to try and promote the class as hard as I have and only have one other bike besides mine," Burnett declared. "Another thing I can't understand is people "building" bikes just for the class. It is designed for street bikes. No need to "build" to be competitive. Brock Davidson was there on a 2005 GSXR 1000 with a stretched swing arm, air shifter, and dry nitrous system; an absolute perfect Superstreet class bike. I honestly believe people may have the wrong idea about the class. It's not Pro Street, or Street Bike Shootout. Those classes push the envelope of what is considered a street bike. Seemingly unlimited budgets and competitors aimed at setting and re-setting ET records are what seem to dominate those classes. We are hoping to promote Superstreet as a venue to compete on real street bikes. The ones you see at bike nights, the ones on the roads on Sunday afternoons, the ones on the boulevards Friday and Saturday nights. No big budgets, not trick one-off pieces, just fast street-ridden motorcycles with the basic bolt on parts available everyday that generally every hopped up bike already has on them anyway. The only real changes to be made would be suspension setting to allow for the three inch ground clearance, maybe gearing changes to keep within the 64″ max wheelbase, and the catch /belly pan or diaper/blanket for nitrous and turbo bikes in case of oil downs. You can tell I really want this class to work, huh?"
Ok the man has spoken.  It looks like Barnett is aiming to recreate the very early days of Street Bike Shootout when 20 or 30 eight and nine second motorcycles would show.  Hope it works. Also hope Brock Davidson doesn't take offense to being called out. But then again things could get interesting.