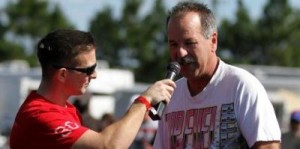 There have been some pretty impressive two-wheeled accomplishments over the last few months that have more than made up for the rain-plagued, slow start to this year's motorcycle drag racing season. Now that we are already at the midpoint, let's take a look back at some of the first-half standout performers.
Larry "Spiderman" McBride is inarguably the top performer of the first half of the motorcycle drag racing season. In Virginia, McBride laid down the quickest dragbike run of-all-time, with a sizzling 5.88 at only 218 mph. The Spiderman has already been over 240 mph a handful of times this season and the low mph on the 5.88 pass leads one to believe that there's actually more left in McBride's nitro-breathing rocket ship.
Still not convinced that McBride has been the hottest rider of the first-half? McBride's flawless 2003 scorecard galvanizes his standing. Spiderman has qualified on the pole and won every race so far this season. It was quite extraordinary when Jim Carroll rode his ZX-12 to AMA/Prostar's first perfect season in the Formula Superbike category last year. However, a perfect season in the Top Fuel class is the ultimate head-turner, where due to the enormous amount of horsepower, getting the bike consistently down the track under power is often times a formidable challenge in itself.
Picking out the top-performer was pretty a clear-cut choice, but naming the second hottest motorcycle drag racer of the year is harder than solving a calculus equation. There are a slew of candidates based on this season's many strong showings and performances.
Geno Scali's consistent finishes and wins at the NHRA Atlanta and St. Louis races have gained him the POWERade Pro Stock Bike points lead. Scali is the first rider, other than Angelle Savoie, to take of the top-spot since Craig Treble did so at the beginning of the 2002 season.
Doug Vancil, aboard his Vance & Hines Top Fuel Harley, has handled the transition from the IHRA to the AHDRA nicely by capturing the points lead and setting a new speed record of 217 mph in Norwalk, OH.
Other than being edged out of the pole-position by two-thousandths of a second in St. Louis, Rickey Gadson has been flawless in the Street Bike Shootout category this season. Although Honda has won the championship the past two seasons, Gadson has undoubtedly been the most dominant Shootout rider in the last 12 months. Gadson has a seven race win streak going and has not been beaten since Indy of last year.
Screaming Eagle V-Rod jockey, GT Tonglet took a Harley Davidson to an NHRA Pro Stock Bike final for the first time since Ed Ryan accomplished the feat back in 1980. Tonglet also scored Harley their first POWERade pole position at the Denver race.
In his farewell season, "Fast" Joe Long has once again obtained the points lead in the MIR/Rock Outlaw Pro Street Series. Long piloted his L&W Motorworks, no wheelie- bar GSXR to a new Outlaw record of 7.37 in Rockingham.
Angelle Savoie's wins at Gainesville, Houston, and Chicago have placed her second in the POWERade points, within striking distance of her forth straight championship. Savoie is currently third on the all-time win list with 31, just one victory ahead of Matt Hines.
Mark Conner, who serves as crew chief for NHRA veteran Joe DeSantis, proved he can ride just as well as he can tune at the AHDRA Norwalk race. Conner shattered a four-and-a-half-year-old Pro Fuel speed record and set a new E.T. mark with a blast of 6.63 at 206 mph, en route to taking his Harley to the winner's circle.
POWERade Pro Stock crew chief and engine provider, George Bryce tuned his Star-motored duo of Reggie Showers and Fred Collis to a final round appearance each. Showers went to his first career final in St. Louis and Collis collected his first NHRA victory in Columbus in just his11th attempt.
Nigel Patrick's stable of Yamaha Road Star Warriors, ridden by Mark Underwood and Michael Ray have annihilated the AMA/Prostar Hot Rod Cruiser records. It was pretty amazing when these massive 800-pound, V-twin thumpers went into the nine second zone last year. Now both bikes run consistent 9.60s and Underwood has been as quick as an unbelievable 9.42 at 140 mph.
After not competing at a Prostar event in over six months due to a serious illness, Bruce Sauer had a magnificent come back weekend at the Norris Cyclefest. Sauer took home $10,000 in Friday's 10K Payday, and capped of the weekend with a runner-up finish in Top Gas.
With so many choices to pick from, I will leave the debating up to you. And remember, the Dragbike.com discussion forms are always a great place to express your views, and I encourage all to do so. Who do you think are this season's top-performers?
After a great first half of the season it will be interesting to see how things play out down the stretch. Keep an eye on those points battles and don't miss out on witnessing a few of these events live. See you at the races.