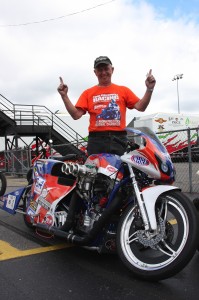 Tom Caldwell/OLD GUYS DO RULE Dragbike RACING made a clean sweep at the AMRA Jim McClure Nitro Nationals finals at Rockingham race last weekend, winning the 2013 AMRA Pro Gas Championship, winning the event, and resetting 3 of his records!
"It is always a good trip to Rockingham in the fall where we have great air and quick runs at the "ROCK"! Steve Earwood, track owner, always makes sure the racers are taken care of.
A lot of racers attend as, this is a memorial race for "DA JUDGE", and the track prep usually results in record breaking times" said Tom Caldwell who's been racing at the Rock for over 25 years.
"We arrived at the Rock around noon on Friday, set up our pit and prepped the bike for the T&T. I did 1 test & tune hit, resulting in a 8.03 ET, we checked over the data and loaded it up for qualifying Saturday.
Everyone was asking if I was going to make another hit?
I said, I am saving it for Saturday!"
Saturday morning, I went to Don Plesser at the PR Factory truck for a new Mickey Thompson slick; we wanted to make sure we would perform at our best for the finale."
According to Caldwell, "Qualifying round 1 resulted in a 8.13 @ 160.96, spinning just off the line . Most of us had the same problem Saturday! On Q2, it spun again and went hard right so I rolled out and cruised the rest of the way down the track .
Q3 came after dark again, and I ran another 8.03 @ 162. The 8.03 made us the #1 qualifier for the event."
"In the first round of eliminations, I tried a couple of changes and the motor did not like it.So, in the 2nd round I got the bye run. I went back to my base tune up and relaxed and threw the clutch and ran a sound 7.92. My sixty foot times were coming back and ran a clean pass."
"I knew it would be a GREAT match up in the finals. Andy Simon and I are very seasoned racers, I think we have the two best looking and quickest Pro Gassers. We staged, the yellows flashed and we were off, Andy got out on me by .009 seconds. He had a .035 and I had a .044 light, not too shabby for a couple of OLD GUYS!"
Our times were:
Caldwell .044 RT, 1.169 – 60', 3.214 – 330', 4.983 – 1/8 ET, 137.60 1/8 MPH, 6.550 – 1000', 7.916 ¼ ET @ 162.10 MPH
to Andy's .035 RT, 1.145 – 60', 3.302 – 330', 5.176 – 1/8 ET, 129.94 1/8 MPH, 6.831 – 1000', 8.268 ¼ ET @ 152.16 MPH.
"So, at the end of the weekend and the season, we won the 2013 AMRA Pro Gas Championship, won the race, another #1 qualifier position, and again, reset 3 of my records in Pro Gas. The OLD man is happy!"
4.983 = 1/8 ET
137.60 = 1/8 MPH
7.916 = 1/4 ET
"We finished 2013 with 1575 points winning the AMRA Pro Gas championship by 345 points.
Another GREAT year for the OLD GUYS DO RULE RACING Harley.
.
My new Vanson Leathers are great, I did it in style and comfort.
Thanks to my supporters below, I again achieved the winning performance to capture my 4th Pro Championship in my career."
Thanks to:
Southern Biker Magazine
SA Racing
Robert's Machine & Welding
Trammel Creek Cycle Works
S & S Cycle
Red Line Oils
JIMS USA
Energy One Clutches
Rigging Institute
VP Fuels
Mickey Thompson Tires
Vanson Leathers
R&D Motorsports
MTC Components
Team:
Dana Eckhardt
Steve Allstaedt
Mary Lou Brewton
Robert Minge
Craig Cochran
Ray Matlock
Garvin Wiawiaole
Jerry Cardwell
Janet (sister)
Tom can be reached at tcaldwellps9@comcast.net or Tom Caldwell on Facebook.
Tom Caldwell/OLD GUYS DO RULE RACING