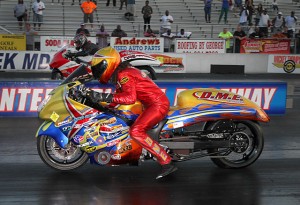 The world's largest motorcycle drag racing organization—the Mickey Thompson MIRock Superbike Series—concludes it's 2013 season with the Lee's Performance World Finals, November 1-3 at legendary Rockingham Dragway. This Hustler's Paradise is the traditional end of the motorcycle drag racing season, that last chance to roll the dice and send the summer off into a record-setting Rockingham sunset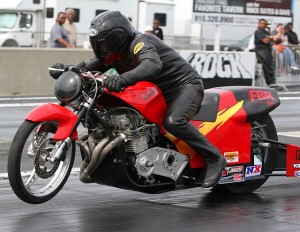 In addition to the return of pro classes to Rockingham for the first time since way back in March, the Finals will feature the always intense Street and Pro ET Tournament of Champions—the absolute best of the best in the two-wheeled bracket racing world.
The pro classes come off of the recent intense action at October's Fast by Gast Fall Nationals at Maryland International Raceway—site of the $10,000 to win Orient Express Pro Street Battle Royale. Joey Gladstone qualified number 1 for the Battle on the turbocharged, DME Suzuki Hayabusa with a 6.986 at a whopping 215 mph, but even he failed to make it to the first ever side-by-side, 6-second Pro Street final round between Tony Ficher and Big-Money-Winner Terrence Angela. But Gladstone does bring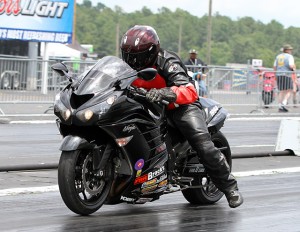 the points lead to the Rock, where his perennial battle with three-peat champ Rodney Williford will reach it's 2013 conclusion.
Defending DME Real Street champ Johnny "Turbo" Dobrin stole some of the Battle's thunder at MIR with a 7.750 number 1 qualifier on his Exoticycle turbo 'Busa, in a seven-bikes-quicker-than-8-seconds field no less. But Dobrin couldn't fend off multi-time champ Jeremy Teasley and his Roger Starrette owned-and-tuned, nitrous-huffing Kawasaki ZX14 in the final. Dobrin has one more chance at The Rock to drive around points leader Teasley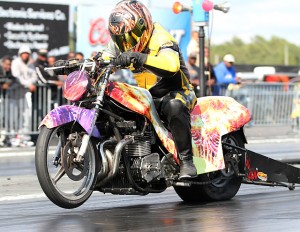 and prevent Teasley's incredible fifth Real Street title in multiple sanctions.
Teasley also has the MIRock Crazy 8s championship in his sights, but Connecticut Kingpin Bob Carlson, Travis "Thibodeaux and" Boudreaux, former champ Eddie "Who" Chapman, Jordan "By the Fire" McDougald and "Fearsome" Andy Baumbach will be among the crowd trying to bench Teasley early in this wildly popular index class that was born in the MIRock series.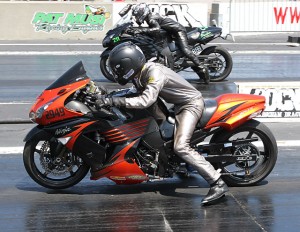 Trac King/APE Top Sportsman will, as always, take the quickest bracket racers and square them off for this additional, Big Daddy prize. "Hillbilly Hustler" Jimmy Shifflett and his Virginia trailermate Michael Rankin are battling for the season title, with the REAL Hustler Boo Brown lurking in third and ready to pounce.
The first ever championship for Louis Concrete 4.60—the world's quickest two wheeled index class—is already locked-up by veteran racer Kenny Cornnell, who finished off the season in style after taking his first ever win at The Rock in March.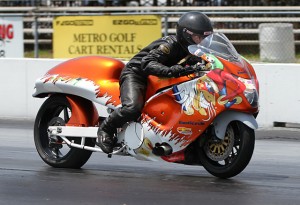 Kenny will be looking to add one more win to his season total.
Likewise, Marion Ford has already won the FBR Shop 5.60 championship in the class that—well, let's just say it—he sponsors….If you see that as a conflict of interest, then get your own bike and get out there and beat him!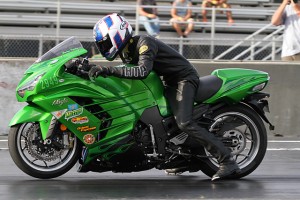 Brock's Performance Street ET and Fast by Gast Pro ET will run two full races in addition to the already mentioned Tournament of Champions.
As big as all these classes are, November at The Rock is all about grills and fryers cooking overtime to keep everyone fueled up for Saturday night's Afterdark Undergound—the original and still the best Hustler's Paradise.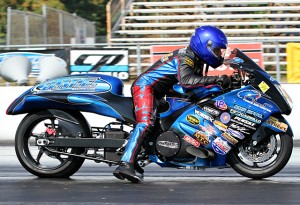 There is no other event on the motorcycle drag racing calendar with the history and tradition of the Lee's Performance World Finals—you know you HAVE to be there!
For Full Event Info: http://www.mirockracing.com/events/worldfinals.htm
Find out more about PJ1 motorcycle products at http://www.pj1.com/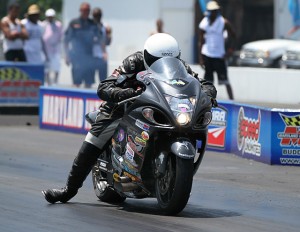 Find out more about the Mickey Thompson Performance Tires MIRock Super Bike Series at http://www.mirockracing.com
Find out more about Rockingham Dragway: www.rockinghamdragway.com
This report was prepared by Tim Hailey. Photos are for editorial use only. Enjoy everything there is to read, see and watch about motorcycle drag racing and more at http://www.eatmyink.com