With only two races left in the National Hot Rod Association (NHRA) Mello Yello Series Countdown to the Championship, No. 3 competitor Michael Ray and his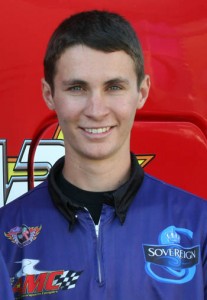 Sovereign-Star Racing team are fighting for every possible point that can boost them up in the rankings to finish out the season.
The NHRA Toyota Nationals held this weekend Oct. 25-27 at The Strip at Las Vegas Motor Speedway in Las Vegas, Nev., may provide Ray and Sovereign-Star Racing with the extra points they need as they continue to compete for the Pro Stock Motorcycle Championship. Only two points currently separate Ray from No. 2 contender Hector Arana Jr.
The team's new 19-year-old rookie driver Chaz Kennedy also hopes to run interference for his Sovereign-Star Racing teammate this weekend as he competes in his second NHRA national event, following his debut at Reading, Pa.
"There are two races left. We're going to try and win one or both of them. We're going to bring all the horsepower, manpower and knowhow that we have. No matter how the points stack up, we are going to focus our efforts on normal race stuff: how to qualify the best we can, how to go as fast as we can, and how to win as many rounds as we can. And, of course, the first thing in our sights is to be victorious in Vegas," Star Racing owner and team crew chief George Bryce said.
So far during his first full season racing for this team, Ray has claimed two national event wins, four additional semifinal round appearances, three No. 1 qualifiers, low ET for the Norwalk and Reading events, and the top speed for Norwalk that also set a new track record. For the last 11 out of 14 races, Ray has also maintained a position within the top five competitors in the Pro Stock Motorcycle points standings, holding the No. 2 position for three consecutive races.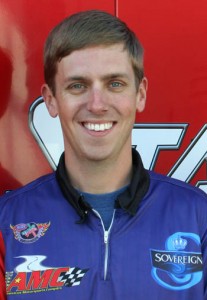 "For right now at Vegas, I say let's qualify on the pole, lets' go fast and let's win. If we get to sit in the front (as champions) at (the awards banquet in) Pomona, let's sit at the front. If we get to sit in the middle, we'll still toast and celebrate our success. Then, we'll go home and spend the next couple of months getting ready for (the Gatornationals in) Gainesville," Ray said.
Although there are many points still to earn in these last two races, the Sovereign-Star Racing crew and drivers are already proud of their accomplishments and momentum during the 2013 season.
"Regardless of what happens, we are going to have the best season we've had in years (for this team). Sovereign Racing and Jeno (Rujp) have put so much into this program for me, George (Bryce) and our team to be so successful, and that says a lot about where we can go next year. If the competition thinks we were good this year, they better be careful what they're getting into for the next few years from this team," Ray said.
After months of traveling with the team as a crew member and developmental racer, Kennedy was recently welcomed as the newest driver for one of their S&S-powered Buell motorcycles. He made his NHRA Pro Stock Motorcycle debut with Sovereign-Star Racing during the Oct. 4-6 race in Reading, Pa.
"I'm going to use Chaz's newness as an advantage this weekend in Vegas. He's excited, but he's pretty confident because now he knows what the bike is going to feel like. Plus, Vegas is an altitude track, so it's going to be a little easier for him to ride because the field is going to go a little slower than it did at Reading. All we really have to do to help him win rounds is to get him to be quick at the starting line, but on time instead of early," Bryce said.
Although Reading was Kennedy's first NHRA race at the professional level, he has already earned a triple AMRA Championship and was named AMRA Racer of the Year and Rookie of the Year for both AMRA and AHDRA. He began working with Star Racing as a student in Bryce's Pro Stock Motorcycle Drag Racing School.
"I know what to expect now, and I know the motorcycle a lot better than I did before the last race. Now, I just need to figure out the (Christmas) tree, so I can get better lights. Every pass at Reading, I was getting better on shift points and smoother making corrections with the bike. I think that once I slow myself down a little on the tree, then we'll be dangerous (for the other competitors). I just have to go straight, go fast and keep that light green," Kennedy said.
The Sovereign-Star Racing teammates will compete this weekend Oct. 25-27 at the NHRA Toyota Nationals at The Strip at Las Vegas Motor Speedway in Las Vegas, Nev. Television coverage on ESPN2 for this event will begin Sunday, Oct. 27 with qualifying sessions airing from 2:30 – 4 a.m. and 3 – 4 p.m. (EST) and final eliminations from 8 – 11 p.m. (EST).
The 2013 Sovereign-Star Racing Team is a partnership between Georgia-based Star Racing and the Hungarian-based Sovereign Racing Team, the 2011 UEM European Pro Stock Bike Championship Team, owned by sugar distributor Jenõ Rujp.
The Sovereign-Star Racing Team would like to thank the following sponsors: Sovereign, Star Racing, Americus Motorsports Complex, S&S Cycle, Daytona Sensors, Worldwide Bearings, CP Pistons, Cometic Gaskets, and Uncle Hal Gottspeed Racing.
• Star Racing Online:
o Twitter: https://twitter.com/StarRacingGA
o Facebook: http://www.facebook.com/StarRacingGA
o YouTube: http://www.youtube.com/StarRacing6X
• Sovereign on Facebook https://www.facebook.com/Sovereigncukor
Star Racing Fast Facts:
• Based in Americus, Georgia
• Six-time NHRA Pro Stock Motorcycle Championships
• 80 NHRA national event wins with 10 different riders
• Owned by George & Jackie Bryce
Sovereign Racing Team Fast Facts:
• Based in Budapest, Hungary
• 2011 European Motorcycle Union (UEM) Championship Team with rider Jesper Thiel
• Owned by Jeno Rujp
Michael Ray Fast Facts:
• From: New Braunfels, Texas
• Job: Harley-Davidson Motorcycle Salesman
• Years in drag racing: 11
Chaz Kennedy Fast Facts:
• Age: 19 years old
• From: Ormond Beach, Florida
• Job: Sovereign-Star Racing crew member
• Years in drag racing: 3