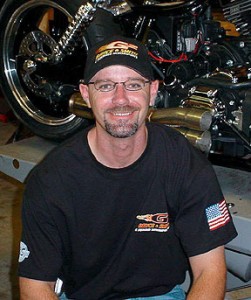 After a 17th place finish in the 2006 POWERade Pro Stock Motorcycle points standings third-year racer Chris Rivas and his Mohegan Sun team have hired Rick Maney as a new crew chief.  Maney comes from an extensive background of engine-building and drag racing. Previously Maney has worked for George Bryce's G-Squared Motorsports, Jim Nasi Customs, and Titan Motorcycles. As a racer Maney captured the 2004 AHDRA Pro Stock Championship.
Chris Rivas' Mohegan Sun NHRA Pro Stock Motorcycle Team has added new crew chief Rick Maney. The squad recently relocated Maney, who brings a wealth of engine building knowledge,  and his wife Krista to the Central Valley of California and set up a shop dedicated to the race program. Brian Bozsum co-owner of the team said, "Maney has settled in and has been working with Chris Rivas on making the whole race program more efficient as well as making us a contender right out of the gate for the 2007 race season".
Chris and Rick have really worked well together and it seems like they have been working together for years. Jessey Fenton co-owner of the team was quoted as saying. " Incidentally and not by mistake, they really spend a lot of time together due to the fact that our shop is attached to Chris Rivas' shop H&D Drifters Performance. Having both of them in the same building working together on the race program will pay big dividends in 2007 and into the future".
The central Valley of California is the Agricultural heartland of the world and the shop is right in the middle of it. Maney has been seen out in the local fields and crops surveying the land. The sight might be a little unusual at first, but he then explains that with all the fermentation processes in the valley maybe he can create some more horsepower from the farmers around here.