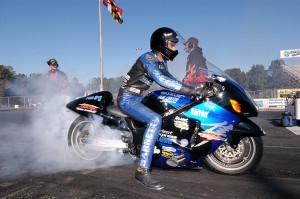 The MIROCK Series has continued to adjust the rules of one of its marquee classes, Pro Sportbike, to maintain parity and allow for all types of motorcycles and riders.  In 2007 the number of possible combinations reaches an all-time high of 19.
MIROCK's popular late-model no-bar class, Pro Sportbike has expanded even further to accommodate a staggering total of 19 different combinations. Turbos, nitrous, superchargers, normally aspirated machines, and 1000 c.c. bikes are now regulated on individual sets of rules based on the rider's actual body weight.
Interestingly enough Pro Sportbike, the class formerly known as 60-Inch, only mandates one of the possible 19-combinations to have a wheelbase of 60-inches or shorter.
After four straight titles by the Velocity Racing-backed Turbo bikes of Mike Slowe (2003-2005) and Anthony Navarro (2006) the nitrous powered machines have been given two more inches of wheelbase by the MIROCK rules committee for 2007, allowing a 199-pound or less nitrous rider 64-inches.
"Doug Witt went 7.70s last year with a 62-inch nitrous bike.  This should really give the nitrous guys a reason to get excited," said Pro Sport Bike elapsed-time record holder Jason Miller, who retired the series at the end of 2006.
In 2006 the rules of the class were tweaked so that members of the now defunct Heavy Hitters category, featuring the mammoths of the sport, could merge into Pro Sportbike by allowing longer wheelbases to the heavier riders. Under current rules a rider weighing over 240 pounds on a nitrous or supercharged bike is allowed a lengthy wheelbase of as much as 70-inches.
Also new for 2007 is a rule that allows naturally aspirated bikes to compete with 68-inches of wheelbase.  According to the Brock Davidson formula each inch of wheelbase is roughly equal to a tenth of elapsed-time.
"I've heard some talk of a few guys building all-motor Hayabusas," Miller said.  "With 68-inches I think there are a lot of guys that could really fly."
The rules also give extra wheelbase to riders who compete on either a turbo-charged, nitrous powered, or blown 1000 c.c. liter bike. 1000 c.c. riders weighing less than 199 pounds are allowed 68 inches of wheelbase for a nitrous or blown bike, and 64 inches for a turbo bike. An additional two inches is granted to riders 200 pounds and heavier.
"The rules are so in favor of the 1000s right now, I can't believe more people aren't building them," Miller said.  "I think a 64-inch turbo liter bike would do extremely well."
The 2007 MIROCK season begins March 24-25 at Rockingham Dragway in Rockingham, NC.