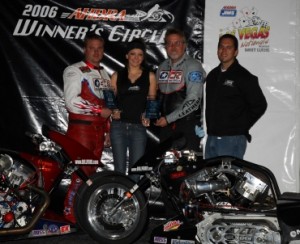 After winning the 2006 AHDRA Pro Fuel Championship, Armon Furr says his greatest asset in the pits isn't in his tool box, or the laptop in the trailer – it's his father
After a tremendously successful championship season in AHDRA Pro Fuel, Armon Furr is feverishly revamping his machine for a shot at repeating the title in 2007.  Furr, son of Top Fuel veteran Bill Furr, capped off the 2006 season with a four wins – Phoenix, Dallas, Atlanta, and Vegas – and a runner-up finish in St. Louis. Furr said the support and knowledge he receives from his father is by far his greatest weapon – not to mention his state-of-the-art Dixie 60-degree v-twin motor that dad designed.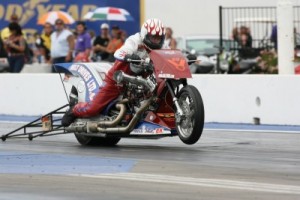 "He (Bill Furr) helped me learn a lot at the end of the season about this combination.  I'm making some minor changes and taking the bike all the way down to the frame," said Furr.  "I'm proud to say that we didn't have that motor out of the frame all last season.  It's a really reliable combination that stays together."
Furr needed every ounce of consistency and reliability he could get in 2006 to hold off rival John Breckenridge by a mere 42 points.  At the final race of the year Breckenridge stunned his adversary by surpassing Mike Lehman's class ET record of 6.58 with a stellar 6.55.  In a dramatic final Furr was able to defeat Breckenridge with a 6.75 to Breckenridge's 7.06 to secure the No. 1 plate.
"It really came down to the wire," Furr said.  "I knew going into the final that if he could back-up that record he was going to win the championship."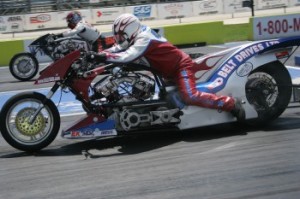 Furr says the advice he received from his father helped him stay poised and focused for the seemingly nerve-wracking run.
"He said whatever you do just focus on your own thing and go do your best.  If John Breckenridge sets the record he deserves to win the title," Furr said. "My dad is a very important part of my racing operation. He taught me everything I know.  He gives me guidance but also lets me do it the way I want do it."
As if winning the race and the championship in Vegas wasn't fulfilling enough, Furr also celebrated his father's long-awaited first event victory of the season in winner's circle.
"Being there in the winner's circle with Armon made it one of the best wins of my career," Bill Furr said.  "We needed to do that."
Furr plans to run the entire Pro Fuel season in 2007.  He hopes to help his customers improve and himself as well.  In fact Furr has some pretty ambitious performance goals.
"We all saw that 6.49 by Jay Turner in Norwalk," Furr said.   "I truly feel with our unique fuel system and clutch set-up that I have a bike capable of that."