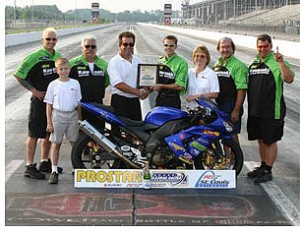 After a two year hiatus from his long time racing partner Kawasaki Motors Corporation, Rob Muzzy will again field a Team Green Pro Stock Motorcycle in 2007. Muzzy with rider Ryan Schnitz opted to run a Buell for the last two years and have emerged into championship contenders.  Previously Muzzy and Schnitz nearly accomplished their goal of making a state-of-the art and unproven ZX-12 competitive in the class, but opted to forgo the endeavor when they felt the class rules where unfair towards such a machine. Now an NHRA rule change and a 200 c.c. increase of Kawasaki's flagship motorcycle has brought them back.
Kawasaki Motors Corp., U.S.A. is announcing the return of Rob Muzzy to its professional motorcycle racing efforts. Team Muzzy Kawasaki Trim-Tex will field drag racer Ryan Schnitz aboard a Kawasaki Ninja ZX-14 sportbike in the 2007 NHRA Pro Stock Bike class. This renewal of the relationship between Kawasaki and Muzzy creates a potent team that hopes to extend the championship winning form that has punctuated the partnership's racing history.
Muzzy Kawasaki has an extensive championship history, dating back to the early 1980's, when Muzzy tuned the legendary Kawasaki S1 superbikes for champions Eddie Lawson and Wayne Rainey. Kawasaki renewed its partnership with Muzzy when the company re-entered AMA Superbike competition in the late '80's. Together, they won a World Superbike title, four Daytona 200s, four AMA Superbike Championships, three straight AMA 750 Supersport crowns, and an AMA 600 Supersport title.
Following the roadracing successes, Muzzy and Kawasaki turned their attention to drag racing, where riders Rickey Gadson and Ryan Schnitz scored six AMA ProStar drag racing championships. In total, Muzzy Kawasakis have won 18 professional motorcycle racing titles.
"I'm very pleased to have the opportunity to work with Kawasaki again." says Rob Muzzy, adding: "The new ZX-14 is an awesome machine, but this will be a real challenge, since it's a totally new endeavor. Now that the NHRA has leveled the playing field, I think we have an excellent opportunity to fight for more championships and I'm really looking forward to bringing more successes to Kawasaki."
Kawasaki Team Green Manager Reid Nordin is hopeful that the return of Muzzy and Schnitz will mark the beginning of yet another chapter in Kawasaki's championship history, saying: "Kawasaki is eager to compete at the NHRA level and with the recent rule changes in the Pro Stock Bike class, where we'll be able to show how the modern multi-valve, fuel-injected technology of the Ninja family is capable of winning at the NHRA level."