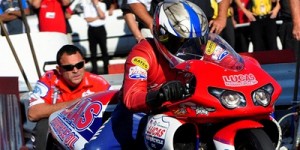 Rookie rider Hector Arana Jr. crossed three hurdles in the last NHRA Pro Stock Motorcycle race. Now, the Lucas Oil Buell rider hopes that experience has better prepared him for future events, starting with this weekend's Summit Racing Equipment NHRA Southern Nationals at Atlanta Dragway.
For starters in Houston, Arana made the race – the first time in just two tries that he qualified for an NHRA national event in Pro Stock Motorcycle. He qualified 13th with a 6.991 at 191.46 mph to clear the first hurdle.
The second and third hurdles he crossed at the same time: Arana won his first round in competition while facing his father, former PSM champion Hector Arana Sr.
"I did not expect to race him this soon," Arana Jr. said. "I knew it was going to happen sooner or later, but I definitely did not expect to have to race him first round of my first race."
Still, racing in Houston taught Arana Jr. some valuable lessons.
"I thought I was going to be more nervous," Arana Jr. said. "You're actually racing, so I thought I'd feel more pressure. But when I got up there, it was just like making another run. I didn't even look to see who I was racing against or anything."
He proved it by beating his dad, and that feeling he had on the start line against his father can be used when he faces other top-flight riders in the highly competitive Pro Stock Motorcycle class.
"It helps because if you have a competitor who is running strong, sometimes you'll overreact to the tree or worry about what you have to do in order to beat them," Arana Jr. said. "If I can stay focused and not worry about who's in the other lane, I can make my best run. Hopefully, that gives me a better chance."
That's his goal, to keep getting better.
"This weekend at Atlanta, we're going to try to qualify better," Arana Jr. said. "Hopefully we can qualify to where my father and I can pair in the finals and not the first round. Now that would be a nice thing to get done."