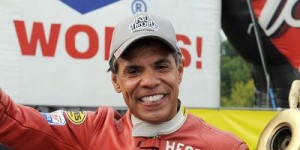 Lucas Oil Buell rider Hector Arana Sr. hasn't exactly been himself this season, yet he's still managed to grab a No. 1 qualifying spot, reach the semifinals once, and earn the No. 4 ranking in the NHRA Pro Stock Motorcycle points standings.
The question now is how worried should the rest of the Pro Stock Motorcycle field be now that Arana Sr. is fully focused starting with this weekend's 31st annual Summit Racing Equipment NHRA Southern Nationals at Atlanta Dragway?
The 2009 world champion spent the first two races of the bike season worrying about getting his son, rookie rider Hector Jr., up to speed in the class. Arana Jr. failed to qualify at Gainesville but made the race at Houston – then promptly knocked out his dad in the first round of eliminations.
"It looks like he's good to go now so I'm going to try to pay more attention to my program," Arana Sr. said with a smile. "We missed the tune-up on one of the qualifying runs (in Houston). We forgot to tighten the fuel lines, and we had a fuel leak, and I couldn't even make a run. That shouldn't have happened and it won't happen again. I've learned that I've got to get my bike ready, then I go and see if Hector Jr. needs help."
Arana Sr. admitted he was a little distracted in Houston as he watched his son try to handle the bike and the powerful crosswinds at the track.
"He did well," Arana Sr. said. "He did what he was supposed to. He can handle the bike, and the bike is going straight. His confidence is coming. That's one less thing I have to worry about now.
"He stayed on his program. Now I can focus on mine."
Arana Sr. qualified No. 1 at the season-opener in Gainesville and advanced to the semifinals. He qualified fourth at Houston before being unceremoniously eliminated by his son.
"Trust me, I went up there to kill," Arana Sr. said. "We were off on the tune-up. I changed too many things, and it got me. The bike left so violently. It was my intention for me to win, not him, but he did it so good for him."
"I've devoted a lot of time to my kid, to make sure that everything is safe. I ended up with a problem on my bike as we kind of lost the clutch combination. We've been trying to see what the problem is so we can fix it and get back to speed like we were running. Now that I have the extra time I need, we'll be right back to the front of the pack."