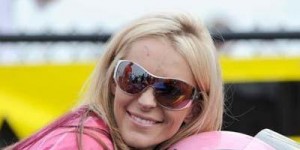 Angie Smith and her Coffman Tank Trucks Buell head to the Atlanta Dragway this weekend wanting to pop back into the top-10 in points.
Smith, who sits just 19 points out of the NHRA Full Throttle Pro Stock Motorcycle top 10, wants to prove her worth in Atlanta.
"I am so ready for this weekend," said Angie Smith. "We have been working real hard to make sure we are ready to come out of the box strong in Atlanta, so hopefully it pays off. This is an extremely tough field this year, so our goal is to qualify well and go some rounds this weekend."
Smith tested her Buell this past weekend with hopes of stepping up her game a bit. Needing a strong run at the Atlanta Dragway, Smith is focused and ready to make her mark.