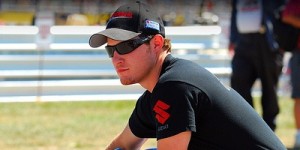 When a meteorologist talks about humidity, he is usually referring to the amount of water vapor in the air and how that makes us feel. When NHRA Pro Stock Motorcycle rider Jim Underdahl talks about it, however, he is referring to the density of the air, the number of grains of water, and how that affects his motor's combustion and his on-track performance. This weekend, at the Summit Racing Equipment NHRA Southern Nationals at Atlanta Dragway, Underdahl and his crew chiefs will be keeping a close eye on the water in the air – and on the ground.
"Last year in Atlanta it was hot and humid, and we struggled to get down the track. We qualified, but not with the numbers we thought we should have been running," Underdahl said. "This year, the forecast is calling for humidity and rain, so we'll have to pull from the data we got last year to adjust our tune up."
Friday's forecast in the greater Atlanta area calls for a high of 85 degrees and a 40 percent chance of rain, followed Saturday with a forecast high of 79 degrees and a 70 percent chance of rain. Sunday's forecast calls for a 20 percent chance of rain with a high of only 72 degrees.
"I'm not a weather man, so I can't tell you what's going to happen, but with Saturday looking bad, it makes any chance we get on Friday that much more important to get down the track and into the show.
Water on the track will stop racing; water in the air stops combustion, and modern science has proven it. NASA engineers reported: "water vapor reduces engine power in proportion to the amount of vapor present, and power is directly related to the consumption of oxygen." According to Underdahl and his crew chiefs Greg Underdahl and Ben Kriegsfeld, the team has already taken steps to give them more control over that mix so they can keep the power production up and the elapsed times down.
"Over the past week, we worked on our carburetors to give us a more open tuning range. That means we should have more control over the fuel-to-air mixture that is especially important when we're fighting water in the air. Those changes combined with what we learned last year and our performance advancements this year should give us a boost getting down the track," Underdahl said.
"Really, though, I'm just excited to be working at getting our Suzuki Extended Protection bike down the track and into the show on Sunday so we can win some rounds and move up in the points. We'll take it one lap at a time, and not worry about the weather or anything else we can't control," he said.