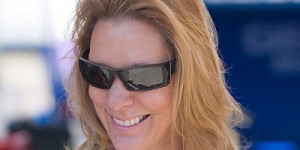 Karen Stoffer and the GEICO Pro Stock Motorcycle team have a bounce in their step this week as NHRA heads to Atlanta Dragway for the Summit Racing Equipment NHRA Southern Nationals.
But it's not just because Stoffer's a past winner at Atlanta. It's also because Stoffer, crew chief Gary Stoffer, and the entire team have stepped up their game in 2011.
"The bounce in the step for the whole GEICO motorcycle team is because for two NHRA races in a row, we've been able to be a consistent factor in determining the final round," Stoffer said. "That's what we're shooting for. So the bounce in the step isn't so much to do with the fact we're going back to Atlanta, a track we love, but because we're going to the next race and proving ourselves to be contenders."
Stoffer is third in the PSM points standings, with one final round and one semifinal appearance in two 2011 races.
"We're shooting for consistency, and if we can consistently be in the top four every weekend – and shoot for that No. 1 qualifying spot – that's the goal," Stoffer said. "The motivating factor for Atlanta is we've done well in Atlanta before – we've won there. We're feeling comfortable and confident in the bike and the chassis, and Gary's been able to tune to it very well for the three tracks we've visited so far, including our testing."
Consistency is a fluid goal, one that is easy to shoot for but difficult to attain. It can be hard enough to gain consistency in any sport, and especially difficult when it comes to pairing machines with humans. But Pro Stock Motorcycle riders have an added factor: Their engines are naturally aspirated, which makes them more susceptible to weather.
"It's challenging," Stoffer said. "Although people talk about riders and the teams, for the Pro Stock Motorcycle and Pro Stock car classes, the challenge is also the conditions and the tune-up and the air and the track. Atlanta, we've always had some sort of weather, rain, moisture. That plays into it. Atmospheric conditions change day to day, sometimes hour to hour. It's tough to figure it all out.
"The key factor is making sure we have enough data under our belt to be able to forecast what's coming at us and applying what we know best."
So far, Stoffer and the GEICO team have proven they can meld all the components together to go fast. They hope to keep it going in Atlanta.
"It's challenging to be consistent," Stoffer said. "It takes a well-oiled machine. Hopefully, we've put all those pieces together. We've been trying to eliminate any risks of falling backwards, and we'll keep going forward.
"We've done well in Atlanta in the past, and we want to continue to do well there for GEICO and our team."